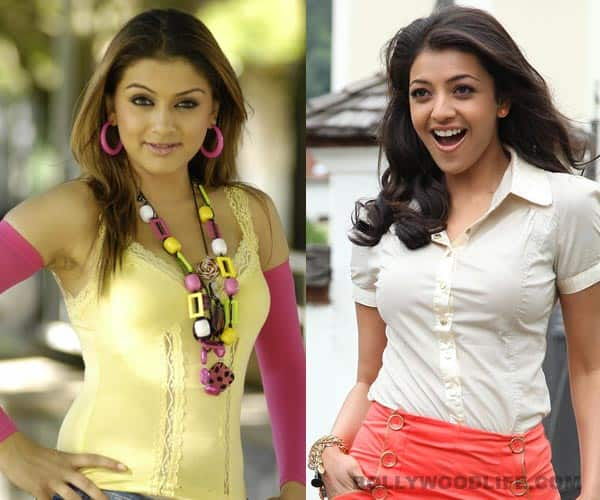 On the eve of International Women's Day, we turn the spotlight on the portrayal of women in South Indian cinema…
There's been a big shift in the women characters in Southern films, particularly Kollywood and Tollywood. Look for women of substance roles in recent films and you'll find it very hard to come up with a list. The fact is, the 'heroine' is hardly at the centre of the story. With most scriptwriters going for macho themes, the female lead actors have been turned into a mere hunk accessory.
So, looking good, romancing the protagonist while he goes about attending to more important matters, and gyrating in a few song sequences is all that today's lead actors are called upon to do. You'll notice this trend in a slew of recent films such as the Vijay-Kajal Aggarwal starrer Thuppakki, Suriya's Maattrraan with Kajal again, Sakuni featuring Karthi and Praneetha and more.
Films with a romantic theme give the heroines a slightly larger canvas to perform. Vinnaithaandi Varuvaya is probably the best of these, with Trisha holding her own. But even in a romantic comedy like Oru Kal Oru Kannadi, Hansika Motwani's role was without any character or personality.
Compare this with the films of the '80s, when master filmmakers like Mahendran, Bharathiraja and K Balachander crafted movies which had strong women at their core. There were films like Vidhi by Vijayan K, in which Sujatha played a lawyer fighting for the justice of a young woman who gets deserted by the man who impregnated her. And Sirai, in which Lakshmi played a rape victim who, when she is thrown out of the house by her husband, seeks shelter in the home of the rapist. Earlier, in Balachander's classic black and white era, there was Aval Oru Thodar Kathai in 1974, in which Sujatha played to perfection the sole bread-winner in a middle class family, alternating between hope and despair. In Bharathiraja's Mudhal Mariyadhai, starring Sivaji Ganesan in one of his finest performances, Radha is a young woman willing to negotiate an unspoken love for an older man.
In the past, onscreen women have fought for justice, for love, for equality and taken on errant men and conservative society. Even in the full-on commercial flicks, the heroines had stronger personalities and unique identities, from the days of Padmini and Saroja Devi, through Sripriya, Sujatha, Lakshmi and, later, Revathy, Suhasini, Sridevi and other similarly talented stars.
It will certainly help the women's cause if more films which focus on real women, rather than mere glam dolls, were made in the mainstream. For art does influence life.