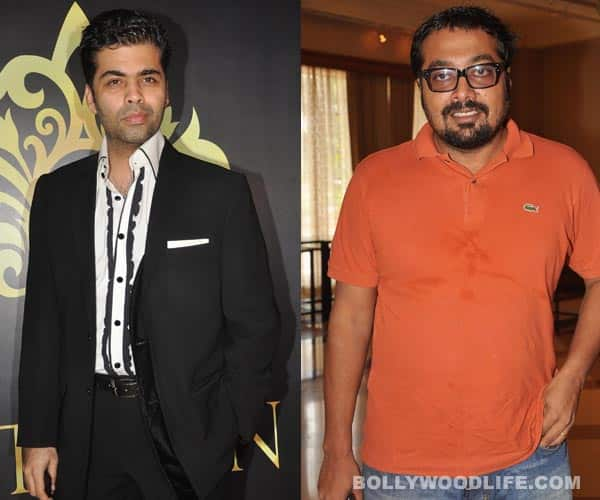 Apparently the Dharma Productions boss wanted the Gangs Of Wasseypur filmmaker to direct a film for his banner, but Kashyap refused Johar's offer
We recently found out that filmmaker Karan Johar, in his need to not just make his trademark big-budget movies but also more meaningful cinema, has been signing directors and forming new associations more rapidly than we would have expected of the man who makes such romantic and glitzy, glam-bam movies.
The director-producer has already roped in the master of massy entertainers, Rohit Shetty. Karan's collaborating with dear friend Ekta Kapoor for an Emraan Hashmi film and is in the process of finalising a co-production with Sajid Nadiadwala.
One of the filmmakers he approached was Anurag Kashyap. While these two diverse directors started off on the wrong foot, over the last couple of years they had warmed up to each other and become friends. So naturally Karan got ambitious and stretched out a feeler to Kashyap to make a film for Dharma.
Guess what the Gangs of Wasseypur filmmaker said! Our friend in high places in B-town whispered, "Anurag refused the offer." Isn't that a shocker! We thought it would happen, since they are now on amicable terms.
But our source explained, "Since Anurag has his own banner, he didn't take up the proposal. And Karan took the refusal very sportingly." That means the collaboration didn't culminate 'coz of that technical glitch and there's no bad blood between the two men. Whew!
It seems that finally the men in B-town have matured. Or maybe this is just a face they put on for the media…who knows! When it comes to Bollywood, you can never tell what's true and what's…errr…a little stretched!