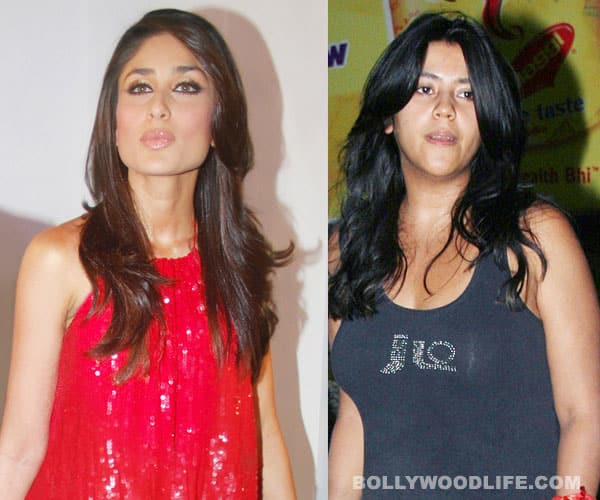 Looks like Bebo has neatly laid out her to-dos for movies she would like to do in the near future. And surprisingly, those involving dear friend Ekta are nowhere on the list!
Kareena Kapoor takes her position as an A-list heroine pretty seriously. And that could be the reason why she is fussing a lot before signing on any dotted line. But even if she is being mighty careful about her projects, we wonder what's making her stay away from movies being made by once-upon-a-time dear friend Ekta Kapoor.
A while ago we woke up to the buzz about Kareena walking out at the last minute from the Ekta's sequel to  Once Upon A Time In Mumbaai owing to confusion related to the script and cast. This move had forced the soap-opera queen to rope in Sonakshi Sinha to play a role originally meant for Bebo.
But what's this? Now we hear that Kareena has refused to even read the script of a movie that's being co-produced by Karan Johar and Ekta Kapoor. Oops! Is Bebo really busy with the movies on her plate and her wedding plans, or is she just trying to stay away from Ekta? We have no clue.
But if rumours are to be believed, Ekta is very miffed with the Chammak challo of B-town. So much so that the telly queen's status message on her phone reads: 'Damaged Psycho + Dumb Bimbo = Heroine.' No points for guessing who the 'heroine' is in this case. Also, EK says that she won't ever work with Kareena Kapoor. Ouch!
But maybe it's only a case of making a mountain out of a molehill. 'Coz chances are that Bebo might actually be too busy to read scripts owing to her fast approaching wedding. So take a chill pill, dear Ekta. You might get your BFF back once she's happily married to her long time beau Saif Ali Khan. Possible. Isn't it, Bollywoodlifers?