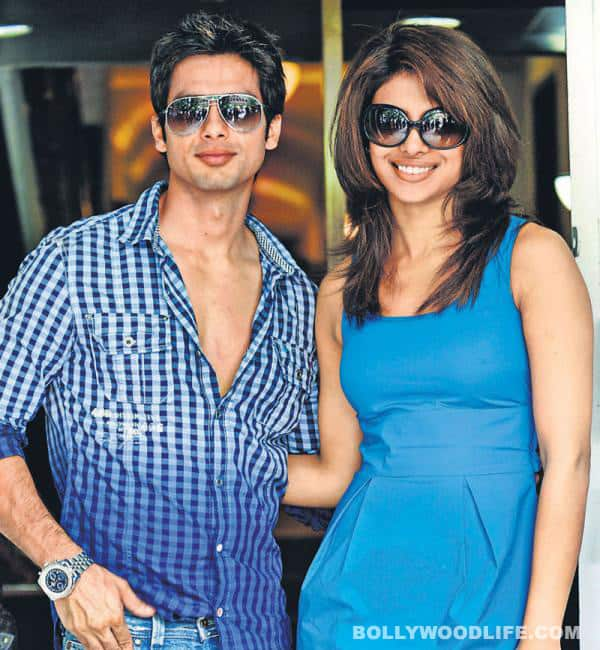 The hottest babe and the cutest hunk have been reported to be on an on and off mode… We've been wondering what their current equation is!
Exotic babe Priyanka Chopra and chocolate boy Shahid Kapoor were once a hunky-dory pair and then cruel fate happened and the two parted ways. However, they were rumored to be seeing each other again? Were they really?
The duo was last seen in Teri Meri Kahaani, which was a box-office dud. Post this film, the two stayed as far from each other as possible for months. But then, Priyanka's father passed away and at a time like this Sasha couldn't leave a grieving Piggy Chops alone. He rushed to her side and offered her a shoulder to lean on. Well, after Shahid's supporting behaviour, things were cool between the two. What more, the Exotic babe even attended a party at Shahid's Versova residence!
However, the latest we heard is that things aren't all that good between the Kaminey actors anymore! We don't know what went wrong but Priyanka is trying to avoid Sasha (same old, same old!). Over the weekend, the two were on the sets of a reality show. While PeeCee was there to promote Zanjeer, Shahid was present there to promote 'Phata Poster Nikhla Hero.' On learning that Sasha was in the same vicinity, Priyanka asked her staff to call her to the sets for the shoot only after Shahid had left the venue… Though our secret birdie told us this tale, PeeCee's friend denied it. Who should we believe!
Anyways, whether the two are avoiding each other or not, they will have to be cordial in the coming future. Priyanka's next with Ekta Kapoor, titled Milan Talkies was earlier supposed to cast her opposite Imran Khan. However, after Ekta-Imran's fallout, Khan has been replaced by our Kapoor boy!
So well, Priyanka and Shahid better bury their hatchet, no? We certainly don't want to see thanda chemistry on the big screen!