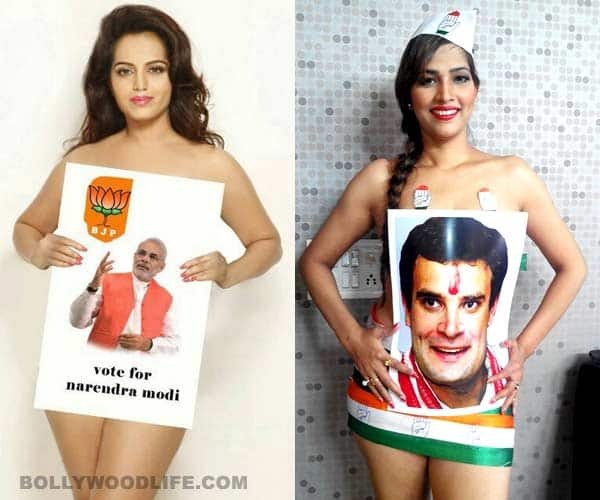 Two desperate damsels drop their clothes and endorse the two poster boys (read men) to gain the much needed attention. Tell us who is hot and who is not- the babes we mean!
We at BollywoodLife found both Meghna Patel and Tanisha Singh not just desperate, but also relentlessly tacky with their dare bare acts. The battle of votes has now turned into an ugly war of stripping where two small time models have dropped their bare essentials to gain the much needed limelight.
After Gujarat based model Meghna Patel stripped to show her support for Narendra Modi, another small time actor Tanisha Singh has shown her skin to endorse the Congress scion Rahul Gandhi.
This news should give jitters to Poonam Pandey who is forever itching to get rid of clothes. The Pandey gal certainly has more competition with these entrants who are making all the right noises for their notoriously colourful stunts.
These risqué antics have certainly made our netas break into a sweat since nobody knows how to deal with this unique modus operandi of skin show endorsement where the marketing gals get more mileage than the product ( read Rahul and Namo) that's being marketed, nudge-nudge!