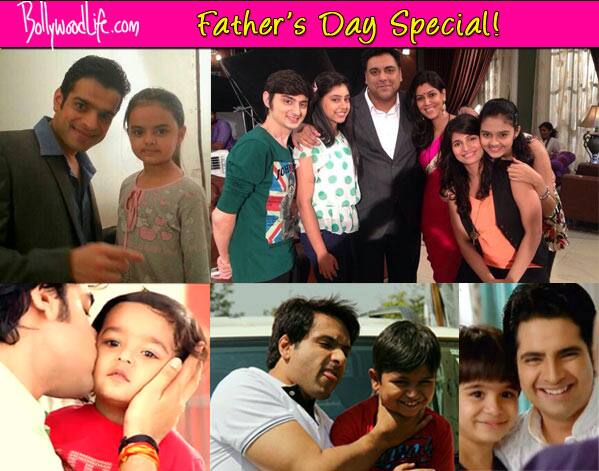 skip advertisement
A father has a special place in a child's heart, as he is the first man that a child looks up to. With time, he becomes a hero, who teaches us everything, from taking baby steps to flying the high skies, while he protectively stands right beside us
We believe actors have been taking lessons from real dads to play the perfect dads onscreen.
It's heart warming to see Anshuman treat his son like a buddy or when Ram Kapoor's daughters try to fix him up with a date and he later narrates his experience to them. Your heart cries along with Jagdish when his adopted son is detected with cancer.
It was very difficult to narrow down the list to five. Since we agree that there could be more than just five; feel free to share your list of daily soap's perfect daddies in the comment section. Until then, vote and tell us who among Ram Kapoor, Anshuman Rathore, Raman Bhalla, Naitik Singhania and Jagdish make the perfect dad onscreen.
Tumhari Pakhi – Anshuman Rathore (Iqbal Khan): Anshuman's son, Ayaan is about eight to nine years old, but living in a hostel has made him mature for his age. Anshuman respects his son and treats him like an equal. He doesn't impose his own ambitions and rules on his kid, instead shows him the destination and asks him to choose his own way. They share a bond of friendship that allows both of them to make mistakes. It's a relationship of equals.
Balika Vadhu – Jagdish (Shashank Vyas): He adopted his wife's son Mannu as his own. Jagdish promised to love the little kid despite knowing that Mannu's real dad is a criminal. Jagdish is an extremely busy man; he is not just the village doctor, but also a politician now. But no matter how hectic his day is, Jagya makes sure to spend quality time with his son, helping him with his studies and at times playing with him.
Yeh Hai Mohabbatein – Raman Bhalla (Karan Patel): Raman believed that his family and he were enough for his daughter to get by, but Ishita's (Divyanka Tripathi) entry proved that Ruhi also needed a mother figure in her life. In spite of disliking Ishita, Raman married her 'coz he knew that she'd make the perfect mother for his daughter. Raman learnt never to bring his differences with Ishita in front of Ruhi. He learnt to be patient and understanding. He paid attention even if it meant that he had to ignore work. He also learnt to express his love to his daughter, which most dads generally avoid.
Yeh Rishta Kya Kehlata Hai – Naitik Singhania (Karan Mehra): Naitik was in coma when Naksh was born, so he missed out on his kid's childhood. When he regained consciousness, Naitik took full responsibility of Naksh so that he could fulfill his duties of being a father. He made up for lost time, bonded with his child even if it meant sitting at home with no work. Today Naksh adores his dad and believes he can tell his father anything and everything on his mind.
Bade Acche Lagte Hain – Ram Kapoor: Ram missed Pihu's childhood 'coz Priya and he were away from each other. However, when he became a part of Pihu's life she became the apple of his eye. He learnt how to be a parent with Priya's help. But Ram loved being the fun parent, until it became too much for Priya to handle. When Priya was in coma, Ram handled all his kids single-handedly. He pampered them, taught them how to be independent, helped them choose their own career and never made them feel that their mother was absent. Of course, he did spoil them too, but dads love doing that, no?