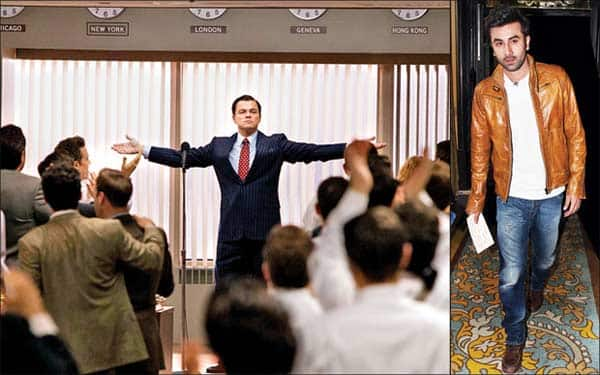 skip advertisement
A look at which Indian heroes would be suited to star in this year's Oscar-nominated films
The big Oscar-nominated Hollywood films this year have thrown forward some uncharacteristic heroes. Guys we've never seen before on screen. And in some cases, wouldn't like to see again. So wouldn't we just love to see how our own superstars interpret these larger-than-life heroes of our times?
The Wolf Of Wall Street:
Character name: Jordan Belfort,
Played by: Leonard DiCaprio
Desi option: Ranbir Kapoor
Why he works… Who but RK as the scheming avaricious over-ambitious vulgar over-reaching Jordan Belfort, the guy who came crashing down on Wall Street. Ranbir would make the perfect Belfort on Dalal Street. Money would never look sexier.
American Hustle:
Character name: Irving Rosenfeld
Played by: Christian Bale
Desi option: Saif Ali Khan
Why he works… A suave wheeling-dealing con artist with a flair for seduction… Saif would be perfect as Irving Rosenfeld, provided Kareena Kapoor Khan plays the smouldering Sydney Prosser. Throw some sexy songs and dances into the hustle, and we have a perfect Desi Hustle.
Captain Phillips: 
Character name: Captain Richard Phillips
Played by: Tom Hanks
Desi option: Aamir Khan
Why he works… Tom Hanks was flawlessly methodical as the real-life captain of the ship combating Somalian pirates. Hanks is irreplaceable. But wait. Aamir has the same dedication to making the role come alive. And Hanks and Aamir bear more than a passing resemblance to one another.
Dallas Buyers Club:
Character name: Ron Woodroof
Played by: Matthew McConaughey
Desi option: Neeraj Kabi
Why he works… Perfect as the AIDS patient, McConaughey's performance seems impossible to encore by any of our A-listers. They would have to lose at least 20 kilos. So let's not even go the Khan-Kapoor way. Neeraj, the actor who lost close to 30 kgs to play the dying Buddhist monk in Ship of Theseus would be perfect in this wannabe remake. An actor as passionately dedicated as Neeraj could be persuaded to do an encore.
Her:
Character name: Pat Solitano
Played by: Joaquin Phoenix
Desi option: Hrithik Roshan
Why he works… A guy who falls in love with the voice in a computer. Okay, so we know the khanak in Vidya Balan's voice would be perfect to replace Scarlett Johansson's sexy drawl. But who among our desi superstars except Hrithik can pull off the role of the disturbed angst-laden loner who develops a virtual passion? Considering the pain in Roshan's personal space the role would fit in nicely with his current state of mind, no?
Nebraska:
Character name: Woody Grant
Played by: Bruce Dern
Desi option: Naseeruddin Shah or Amitabh Bachchan
Why they work… An alcoholic demented ageing old man on a journey with his son. Shah or Bachchan fits the bill perfectly. And if we can get Abhishek Bachchan to play the son, the pair would generate plenty of combustive heat.
12 Years A Slave:
Character name: Solomon Northup
Played by: Chiwetel Ejiofor
Desi option: Randeep Hooda
Why he works… Trans-locate the American-African slavery to Colonial India, and our very own Randeep's bare-backed, six-packed dhoti act with his brooding biceps and scowling face would be a success. Go for it.
Gravity:
Character name: Matt Kowalski
Played by: George Clooney
Desi option: Ranveer Singh
Why he works… Wouldn't Ranveer look terrific floating in space, provided Deepika Padukone floats with him in Sandra Bullock's role? Karan Johar should seriously apply his buddhi to this airspace Shuddhi.