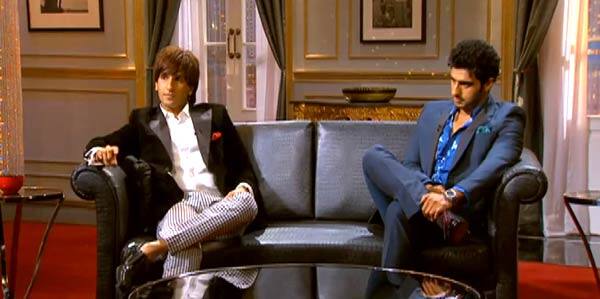 When it comes to making outrageous comments, the two B-town hunks from Gunday are certainly treading Salman Khan's path…
Salman Khan opened the fourth season of Karan Johar's celebrity chat show Koffee with Karan – that episode was nothing less than explosive. He spoke about his exes, arch rival Shahrukh Khan and close pal Aamir Khan. But the highlight of the KWK episode was when Sallu miyaan – with a totally straight face – said he was a virgin. And now this line has become like an iconic buzz-phrase that everyone wants to use. In the latest episode of KJo's chat show, Ranveer Singh and Arjun Kapoor will also be heard confessing their 'virgin' secrets.
On KWK, when the filmmaker-anchor asks the Ram-Leela actor, 'How many girls have you slept with'? Singh replies, 'I am not answering this question. (After a pause) I'm a virgin.' That's not all. When Karan says that the Dabangg Khan has already used this line, Sallu loyalist Arjun quickly jumps in to add, 'Bhai is a trendsetter. We are both virgins.' Frankly, we had fun listening to the confessions of a 'virginal' Salman Khan. But with the Gunday co-stars claiming the same status, wethinks the joke soon could get old. Especially since Ranveer has already gone on record about having many one-night stands – remember his last appearance on the popular talk show, when he claimed to have gone from being a boy to a man courtesy Kareena Kapoor (then not yet Khan), whatever he may have meant? So either Deepika Padukone's alleged boyfriend thinks the audience has amnesia, or the talented actor is once again trying too hard to grab attention with his not-so-flattering antics. Also, we want to ask Ranveer – what's with the hair colour, dude? We do think you're hot, but you need to get a new stylist or look in the mirror more often.
And where Salman's protégé Arjun is concerned, we need to tell him this: You don't have to copy everything your idol does or says, man. It's not going to make you Salman Khan!