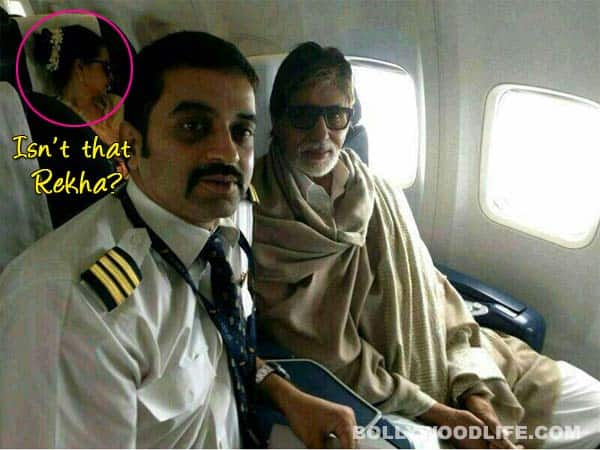 The 'Silsila' couple was recently spotted travelling on the same flight – did they speak to each other?
They say that a picture says a thousand words and this particular image has taken the saga that we thought was dead and buried out of the archives and given it fresh blood. Amitabh Bachchan is seen in this one, posing with the pilot of the plane he was on. But what is far more interesting is the fact that there is a certain well known profile in the seat behind Big B's. Take a close look…isn't that Rekha? Yes, you got it right!
Rumours about the alleged relationship between Sr Bachchan and the eternal diva of Bollywood were the talk of the nation back in the '80s. The then 'lovebirds' shared screen space in many films including Do Anjaane, Khoon Pasina, Mr Natwarlal, Suhaag, and Muqaddar ka Sikandar. Their relationship reportedly sparked trouble in the Big B-Jaya Bachchan's marriage. However, things settled down slowly and Amitabh and Rekha last worked together in Yash Chopra's Silsila in which Bachchan played the role of a married man who leaves his wife (Jaya Bachchan) for the 'other woman' (Rekha). A case of real life being mirrored in reel stories?
Now the buzz is that Amitabh and Rekha might work together again in Aneez Bazmee's Welcome Back. The film is the sequel to Welcome, which had Akshay Kumar and Katrina Kaif playing lead roles. If recent reports are anything to go by, Rekha has verbally agreed to do the role, but Bazmee is yet to hear from Big B. He recently said, "I want to work with Amitabh and Rekhaji. She has said yes to the role, but I still have to meet her and discuss it. I haven't met them yet. Rekhaji is a fine actress and I always wanted to work with her."
Whether or not the two actors will come together again is to be seen. But that they were on the same flight is obviously true, judging from the photograph that has gone viral on the web. And that makes us wonder, if this picture makes it to Bachchan's official blog, will it have a disclaimer that will read "All incidents in this picture are purely coincidental"? Wink, wink.
Photo: Facebook