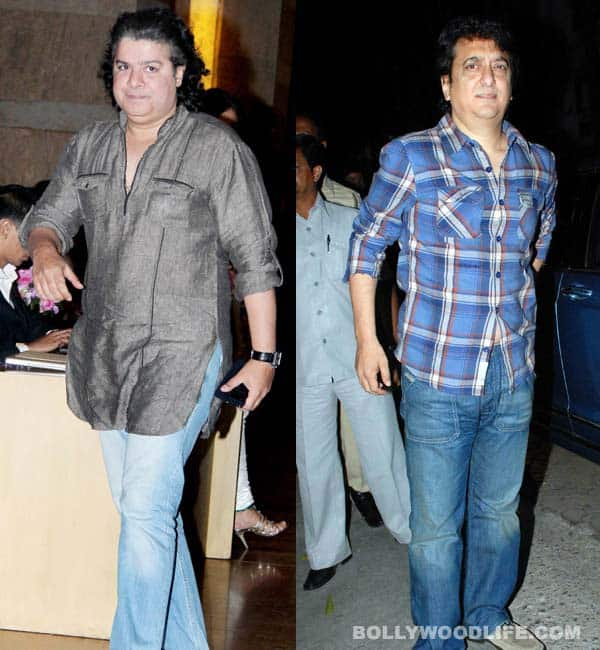 The director has apparently walked out of the producer's planned new project!
The hot buzz from the filmi suburbs of Mumbai is that the hit jodi of Housefull (both films) have parted ways. Yes, director Sajid Khan and producer Sajid Nadiadwala are not going to work together on their future project. Our gossipmonger told us, "They had creative differences over the sequel of Judwaa, so Sajid isn't directing the film."
Remember, not so long ago we told you that Salman Khan's 1997 blockbuster comedy was going to have a second edition? But instead of the blockbuster superstar, the sequel would have Saif Ali Khan in the double role. In fact, the director and producer, who have the same first name, had even agreed on Sonakshi Sinha as one of the leading ladies in the film.
Anyway, we wonder if director Khan's departure from Nadiadwala's Judwaa 2 is just a hiccup in the longstanding association, or the permanent end of a so-far successful marriage…err…partnership. We also want to know what could have shaken, stirred and upset the brother-like friends so much that they won't work together.
Does 'creative differences' have anything to do with the choice of lead actor for Judwaa sequel? 'Coz while news reports claim that Saif will be starring in the project, information provided on Nadiadwala Grandsons Entertainment's website paints a slightly different story. In the forthcoming films category on the site, it reads Judwaa 2 – starring Salman Khan, to be directed by David Dhawan!
So what will happen to the future of comedy branded Housefull? We'll let you in on that one as soon as we hear more about the Khan-Nadiadwala rift-no rift!