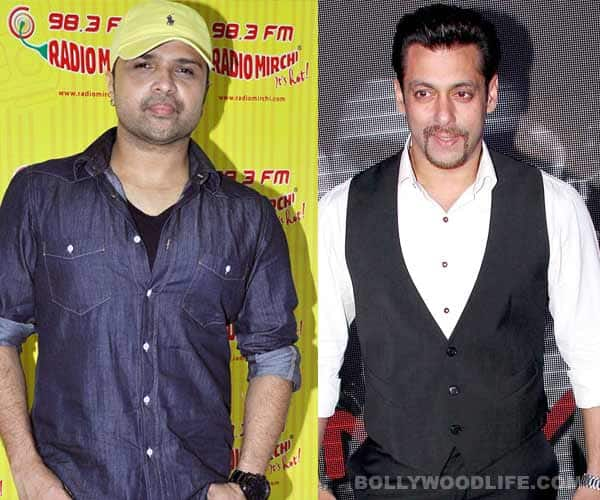 The Xpose actor, who has tasted success (acting-wise) after his previous failures, doesn't want to work with the bhai of Bollywood. Read on to find out why…
Himesh Reshammiya's latest attempt at acting worked! The film has grossed Rs 10 crore already, thus ranking as Himesh's personal best so far. Now that is reason enough to propel the music composer cum actor to continue with his acting endeavours but recently the actor was heard saying that he doesn't want to work with his mentor, Salman Khan!
Before you start thinking that Himesh has his head in the clouds after his latest hit, we would want to clarify that Himesh simply doesn't want to work with Salman because that would render him overshadowed in the film. Himesh's proverbial love for Sallu bhai wasn't hidden from us and his recent revelation reinstated the same. On being asked he would ever be willing to share screen space with the Kick actor, Himesh said, "No I don't think so. Salman bhai is such a big superstar that I can't even think of acting with him. I am happy giving music to his films."
Hmm. It is no brainer that for a film starring Salman Khan and Himesh Reshammiya the audience would be pulled to theatres by Sallu's charm and not Himesh's, well, presence (we can't speak for the auto-rickshawalas though.) But we can't help but be reminded of the past wherein Himesh's strong ties with his mentor were sullied due to reasons unknown. Could it be that the music director's and Salman's cold war is back on?
Himesh tried to clear our doubts by claiming that he loves Salman like a brother and though there relationship hit a rough patch in the past, everything is good as it was now. He added, "Salman is my mentor and I will always be indebted to him for whatever he has done for me. I don't ask him any questions. Salim saab was instrumental in giving me the break with Salman bhai. Today I am now doing my 15 or 16th film with him and all my previous films with him have worked."
As far as musical association goes, Himesh will be teaming up with Salman to compose for his upcoming action flick Kick and later will be making music for Prem Ratan Dhan Payo, which also stars Salman. Well, as long as everything is smooth sailing between the two we are relieved coz' we honestly don't want Himesh to take any pangas with the our hot-headed yet gooey at heart Sallu miyaan.