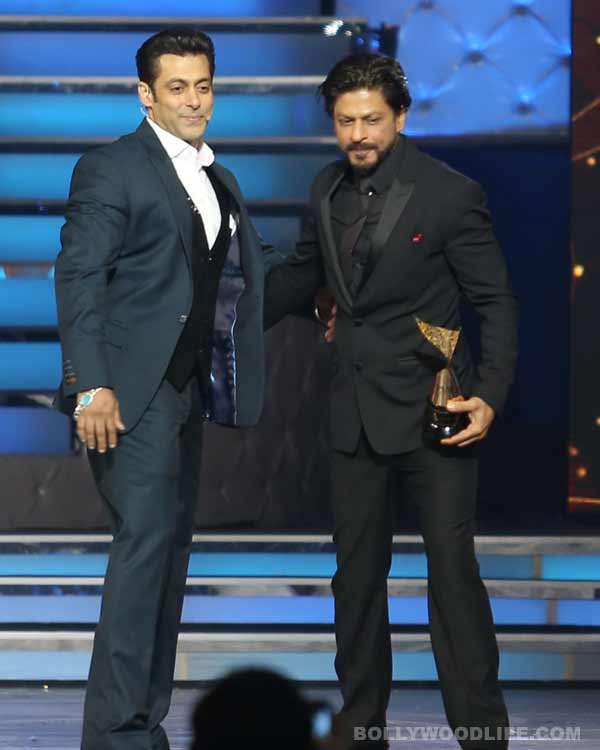 The Jai Ho actor's filmmaker brother Sohail Khan has talked extensively about the warring Khans in a recent interview, so have the once arch rivals now back to being friends?
Salman Khan and Shahrukh Khan seem to be ditching their old equation and bringing a new friendly wave. While their hug at the iftaar party last year started a new episode in this relationship, Sallu and SRK took their dosti mode forward this year at the Star Guild awards. And now the Dabangg's brother feels that this new friendship will have an impact on whole of Bollywood that stood divided for almost five years.Sohail Khan had in an interview last year rubbished all suggestions of SRK-Sallu patch-up, the actor turned filmmaker had said,"Bhai has said many times in the past that he would never again be friends with Shahrukh Khan. Their differences are irreconcilable. And that's how it remains. The hug at the Iftaar party just happened because of circumstances. Neither bhai nor Shahrukh could say no to their host when he led Salman Khan to Shahrukh Khan. They've the highest regard for him. And that's why they were both there at the same place at the same time. It was only because of the host that bhai made that gesture. There is nothing more to it." Sallu's father Salim Khan too had his doubts about the two arch rivals ever patching up.
But today, Sohail too feels that the warring Khans might get back to being friends. The Jai Ho director said in a recent interview that all that was said and written about the two Khans was extremely overrated and it was nothing but 'just an argument between two friends' and he worries for those who created camps after the Khan's big fight at Katrina Kaif's birthday bash. The Kick star's brother sees this as a positive change between the once good friends. Sohail said, "Now, whenever and wherever they bump into each other, they are respectful towards one another. Touch wood, they have started exchanging pleasantries. And anyway, why would anybody want to encourage the negativity? In fact, the rest of us fight a lot more but it never gets noticed."
Sohail also added that he shares a cordial rapport with his brother's enemy, "I have a very decent and polite relationship with Shahrukh bhai. And that should always be the case." Well, with Salman's family warming up to SRK and the Dabangg himself exchanging warm hugs and singing praises for King Khan, we shouldn't be surprised if we soon spot all three Khans partying under the same roof, right BollywoodLifers?