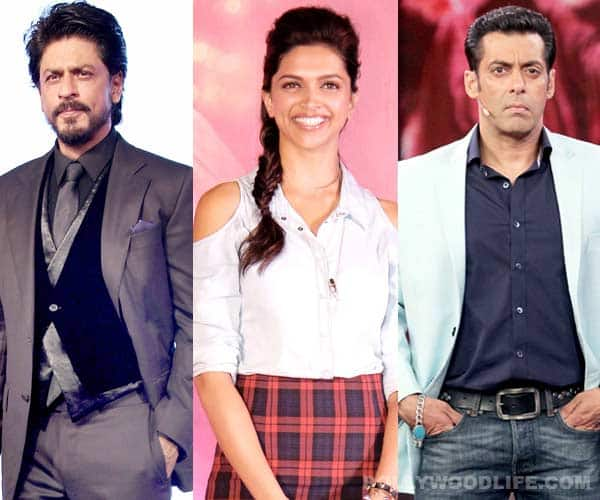 A new battle has begun between the two most famous arch rivals of B-town. Read on to know more…
Remember the entire tamasha between Salman Khan and Shahrukh Khan at Katrina Kaif's birthday party a few years ago, when Shahrukh made some comments about Katrina, who was then allegedly dating Salman, after which the Khans turned foes after years of being sort-of-friends? Whew! Now that was a tamasha that we cannot ever forget, hai na? So why are we digging out the old wives' tales, you ask. As you all will remember, the arch rivals have been taking digs at each other since that eventful night, but recently it has been in a very subtle and indirect way. And they will continue to do so, we predict.
Five years ago it was Katrina who starred as the lady in the limelight because of whom the two Khans were in the same place at the same time. Now it looks like Deepika Padukone is the new reason why Shahrukh and Salman continue to battle it out. We have heard that DP has been signed opposite Salman for Sooraj Barjatya's next film, Bade Bhaiyya. So how does this fact connect to the Salman-Shahrukh rivalry? Well, if recent rumours are anything to by, Deepika has also been signed opposite Shahrukh for the fourth time after Om Shanti Om (OSO), Chennai Express and Farah Khan's upcoming film Happy New Year. Will this be the project that Aditya Chopra of Yash Raj Films is working on? Or is this just a rumour floating on the speculative wind? When we find out, you will know.
So will there be a new fight that emerges between the eternal bachelor and the King Khan? Is Salman trying to take Deepika away from Shahrukh? Will this be another April Fool's style faux story? We wonder….
Interestingly, though DP made her debut with Shahrukh in Farah Khan's Om Shanti Om, Salman had spotted her in an ads and had recommended her name to one of his directors; but then Farah signed her on for OSO and all else had to wait. Deepika has often said she would love to do a film with the 'other' Khan and it looks like that wish has come true. And a little birdie said psssst to us that Salman recommended her name to Sooraj for Bade Bhaiyya.
Now all this makes us wonder which path Deepika will choose to tread. Will she be the new Kajol in Shahrukh's life – the two making the perfect romantic onscreen pair – or will she be a new Katrina Kaif for Salman Khan? You tell us!