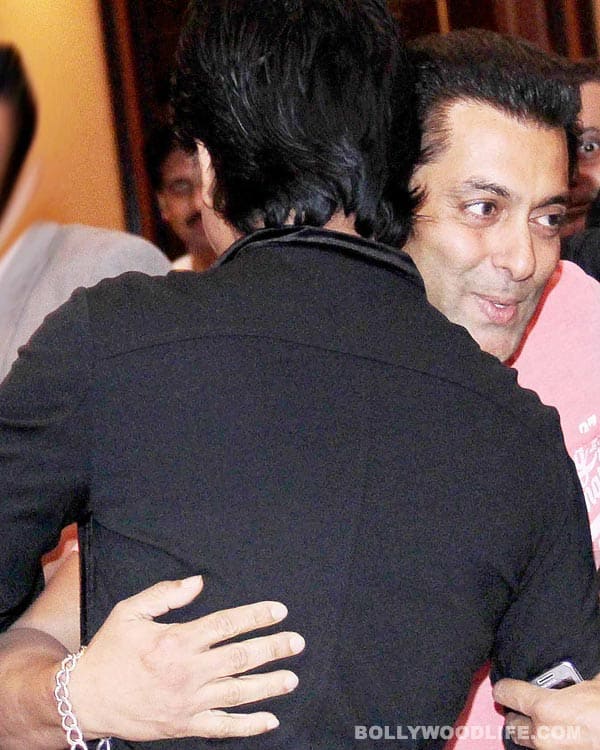 Update: Just when we thought that all's well between the warring Khans, Salman's brother Sohail suggests otherwise
When Salman Khan greeted Shahrukh Khan at Sunday night's iftaar party, everyone believed that the duo had let go off the past. But,  Sohail Khan's this statement came as a dampener – 'Salman & Shah Rukh Khan just greeted each other, nothing else'. For everyone who thought that this was a new beginning in Salman-SRK dosti chapter Sallu's brother hints that this was just a casual meeting. Does this mean that the friends turned foes will never be friends again? Well, going by Sohail's statement this looks no less than mission impossible!
Earlier Report: Sunday evening definitely was a special time with an even more special moment – it seemed like the Khan vs Khan war was over after five years!
It was something we have all been waiting for. Salman Khan and Shahrukh Khan hugged and made up at an iftaar party held by politician Baba Siddique last night.And it was Salman who extended the olive branch to SRK, we are told. An onlooker confirmed that Sallu walked up to SRK and patted his shoulder…and then the duo exchanged a warm hug. Awwww! Trust the Khans to throw you a surprise when you least expect it!
Shahrukh and Salman have avoided each other studiously, timing their entries and exits perfectly at social gatherings and events so as not to make any contact, even with a look. But on Saturday the gathering at Mehboob studio was surprised to spot the two mega-stars' vanity vans parked next to each other. While the Dabangg Khan was there to shoot for the next season of Bigg Boss, King Khan had an ad shoot scheduled around the same time. Everyone expected fireworks. But no, there was a bigger surprise in store for avid onlookers. And that came the next evening.
Not many knew that Sunday evening would be the closing of the Khan war chapter and new beginning to a long lost friendship. And what a moment it was! SRK gave us a peek-a-boo of what transpired between him and Sallu when he tweeted, 'Finally u realize turning the page is the best feeling in the world, becos there is so much more to the book than the page u were stuck on'.
So now that the two Khans have moved on from what happened at Katrina's birthday party in 2008 and are willing to be friendly to each other again almost five years later, is this the next chapter in their turbulent relationship? Have they moved to a new state of being best buddies, like they were in the good old days? Will they come back onscreen together? Do we see filmmakers already queuing up to sign them on? We hope that this truce lasts and the bond gets stronger – with the Khan men, no one can ever predict what will happen next. For now, the least we can expect is to see SRK on Sallu Bigg Boss to do some promoting of Chennai Express. Don't you think so?