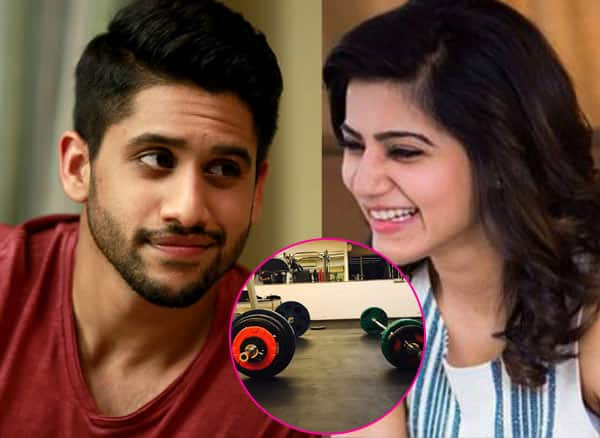 There's nobody who doesn't know of the most popular Tollywood couple Samantha Ruth Prabhu–Naga Chaitanya. It was only recently, the couple came out in open about their relationship, fans went crazy because the on screen was finally dating for real. Ever since they accepted their relationship, Samantha has been quite open about it and we are loving it! When Premam released, she wished Naga Chaitanya luck and also tweeted out a review of the movie. And now she has posted a picture of both of them working out. Although there are no confirmations that is indeed Naga Chaitanya, from the looks of the tweet, it can't be anybody else. They sure are giving other Tollywood couple fitness goals and busy spreading 'happy hormones' Also Read: Nagarjuna is very happy with Naga Chaitanya and Samantha Ruth Prabhu's relationship!
It was in 2010 when the couple starred together for the first time in Ye Maaye Chevase and they created a furore. Their crackling chemistry was one of the biggest highlights of the movie. They did it again with Manam. So fans were only too thrilled to see them together. It was in an exclusive  interview that Samantha revealed her relationship status "Chay (Naga Chaitanya) and I are in a relationship and the reason we're not talking about marriage is because even the immediate family would know about the wedding only three months before. Why should I talk about marriage to the media when there's still time? We have our parents' blessings and there's nothing to hide. We have a friendship and relationship as long as my career – right from my first film. I'm extremely happy. And no, the wedding is not in 2016."  This was just after Naga Chaitanya had confirmed that he would be get married next year. So get ready for the grandest wedding in 2017.
His and hers #workingout #wayoflife #partners #deadlifts #happyhormones 💪 pic.twitter.com/wECHt7mSnt

— Samantha Ruth Prabhu (@Samanthaprabhu2) October 18, 2016
In other news, the couple might come together for the Telugu remake of 2 States. Abhishek Nama of Abhishek Pictures acquired the rights to this movie for a hefty sum.  "Samantha is a Malayali and Naga Chaitanya is a Telugu boy, so the subject suits them and their real life relationship will add glamour to it if they sign this film," revealed the producer as per a source on a leading portal. Moreover, when Naga Chaitanya was asked about this movie during the promotions of Premam, he expressed interest on being part of it.  So, fingers crossed.