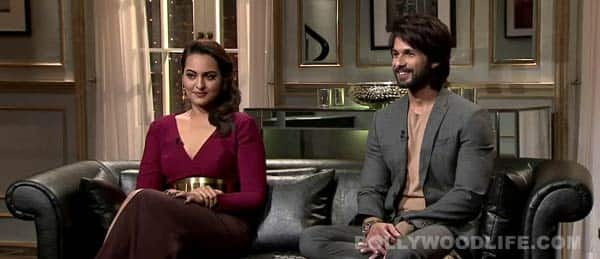 The R…Rajkumar actor and his heroine are the latest to share the couch on Karan Johar's popular chat show. Does that mean something..err…special?
Shahid Kapoor and Sonakshi Sinha share a great camaraderie. Why do we say so? Well, Sona chose Shahid over Saif Ali Khan when her two releases R…Rajkumar and Bullett Raja clashed at the box office. Not just that; this duo is ready for an appearance together… on Koffee with Karan 4, sillies! And if you think we are reading too much into this happy relationship, then here's why we think that Sasha and Sona might just be the new couple in B-town. Shahid's appearances on Karan's show have followed a pattern. First he came with Kareena Kapoor (now Khan), his then girlfriend. His second – appearance on the show, we mean – was with his reported ladylove the Exotic Priyanka Chopra. And now it is a new lady – is Sonakshi's company a mere coincidence? At a promotional event for their film together the duo's chemistry in real life didn't go unnoticed. Shahid even said that Sona looked the best in a saree and confirmed that he had gifted Shotgun's daughter one. And body language experts on UTV Stars suspect that something is brewing between the two, based on that episode.
Well, Kapoor's father might finally be relieved if there is any truth to the suggestion that Shahid is dating Sonakshi. Considering this babe's track record in Bollywood, she might just rub some of her good luck off on the Kapoor lad. As for Sona, we wonder if the new leaner meaner sexier figure she is showing off in fabulous clothes is a result of a little help from her co-star and his gandi baat. What do you think?
BollywoodLifers, do you think that Shahid Kapoor and Sonakshi Sinha would make a good real life couple?