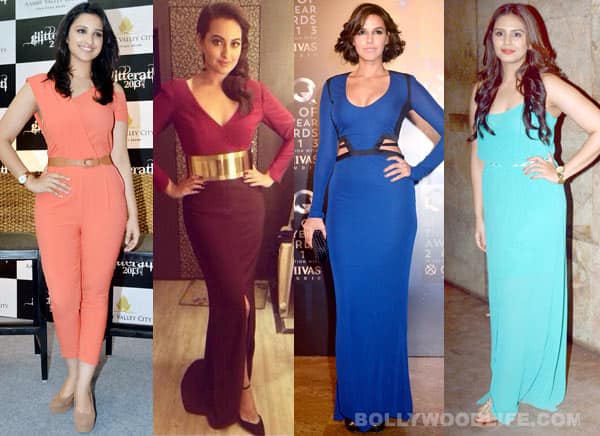 skip advertisement
Sonam Kapoor is known for her unique fashion sense. But looks like the style diva is in for competition from the more …errr… healthy ladies in B-town
Sonakshi Sinha is sharing the couch with Shahid Kapoor on Karan Johar's Koffee With Karan this weekend and when we saw a photo of the actor on the chat show, we were mighty impressed. Sona chose a Nikhil Thampi outfit cinched at the waist with a wide metal belt – a typical design from his latest line. Sonakshi has lost weight, but she still has curves a-plenty. So when we saw the lady's latest outfit and were stunned at her latest appearance, we thought of other voluptuous babes who could easily compete with the usual stick skinny fashionistas.
Gone are the days when only Sonam Kapoor, Deepika Padukone, Anushka Sharma and Priyanka Chopra with their slender figures could be called 'fashion icons'. There are others with more rounded shapes who make an equally stylish picture.
The R…Rajkumar babe, for one, has not only lost weight, but has scaled up her style sense several notches. At recent events Sona has worn a Rachel Roy jumpsuit, an Amit GT gown and a short red DvF dress. Each time our verdict was the same: she looked ravishing.
The popular Parineeti Chopra may have been recently bashed verbally by newbie Alia Bhatt for her dressing style. However, on several occasions, Pari has won hearts. None of her appearances this year have been brilliant, but at a few events she looked nice – in a tiny green skirt and a white top from Zara, or a blue Latin Quarter dress…she looked picture perfect.
Huma Qureshi is certainly no lightweight, especially compared to her contemporaries, but she doesn't shy away from flaunting different and unique outfits. At a recent awards function, Huma chose a Nikhil Thampi gown with a slit up the front of the skirt. She added huge earcuffs, which reminded us of Sonam…a little. Though Ms Kapoor may have announced the trend of ear jewels in B-town, Huma looked good in one. The Desh Ishqiya lady also wore a slightly different version of the black Thampi gown with a metal belt we saw on Pari and Sona, and she carried it with poise.
Neha Dhupia is not a skinny actor by any stretch of the imagination. She's sexy and voluptuous. And the babe isn't afraid to flaunt her curves. Be it a maxi dress or a cut-out frock, a tummy-showing crop top or a pair of silk shorts, Neha has been spotted in almost every possible outfit and that's what we love about her. She looks smashing, always!
Kajol, Tisca Chopra and Mahie Gill too have impressed us with their appearances. Despite being well-curved, they don't play safe with their wardrobe choices.