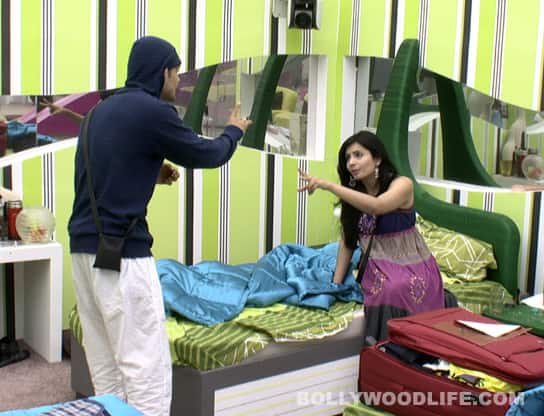 We've always suspected that reality shows are not all that real. The shoots we've attended have also proved that to us. So why does it still surprise us when ex-Bigg Boss housemates Kamaal R Khan and Payal Rohatgi claim that the reality show is scripted?
The whispers about reality shows actually being fake have been doing the rounds ever since the first show aired – Indian Idol, Kaun Banega Crorepati, 10 Ka Dum and Khatron Ke Khiladi have all been victims of this criticism. The latest to join this infamous list is reality show Bigg Boss 5.
Kamaal R Khan tweeted way back on November 21 that Pooja Bedi would be the next one eliminated from the Bigg Boss House. 'This week Pooja Bedi will be out,' he tweeted, also insisting on this to a TV reporter. And she did get out five days later. Once Pooja Bedi and Pooja Misrra were evicted, he tweeted again, 'I think it is mistake of #BiggBoss there was not so much violence tat Pooja Mishra shud go out. Sometime bb use different rule 4 difrnt ppl And this is why sometime ppl havedoubt tat #BiggBoss is a scripted show. BB shud be fair with each and every contestant. Vindu pushed me more than tat in #BiggBoss3 but bigg boss didn't take any action because he was Akshay's recommended candidate.' Now Payal Rohatgi has come up with a similar claim, 'Heard mahesh bhatt signed the porn star in bigg boss. And he was talking about not being hypocrite. Hope indian audiences like this. Bigg boss 5 is changing its rules accordingly to its own whims. So now I think its getting scripted as they change their rules for trps,' she tweeted.
Bigg Boss' main competition till a couple of weeks ago was Kaun Banega Crorepati 5, and claims of that show being scripted too have been doing the rounds ever since a guy from Bihar won Rs 5 crore. Many believe that it was deliberately planned to boost the show's ratings. In the first season of the show, many felt that the Rs 1 crore winner had been fed the answers beforehand. Of course, you may just call it a case of sour grapes, with those not making it to the jackpot spreading the rumours. Obviously the channelwallahs will claim that everything is as real as it comes. The same kind of allegations had been made against Dus Ka Dum too. How can anyone accurately guess 'Kitne pratishat bharatiya…' (percentage of Indians) have a certain viewpoint? Many did on the show and went on to win some dum-daar amounts of money. Abhijeet Sawant, who won the first Indian Idol, faced similar criticism after his victory. That criticism received a lot of justification when Rahul Vaidya, who lost to Abhijeet, defeated the Idol winner in Jo Jeeta Wohi Superstar four years later. But since it was Rahul who did most of the tom-tomming, his claims lost their spark.
If we know all this, why do we still hold our breath as Sushil Kumar attempts the Rs 5 crore question? Wonder with Pooja Misrra if she'll get evicted? Vote furiously for our fave singer? 'Cause that's the magic of reality television!
Coming back to it, can we say Bigg Boss 5 is scripted? Kamal predicted in his tweet on Tuesday, "Sharadha will be out this week." Let's wait and watch whether the Sharma gal (despite the spelling, we are sure he means Shraddha) will really exit the house this weekend. Then we'll know for sure. Meanwhile, why don't you tell us what you think?