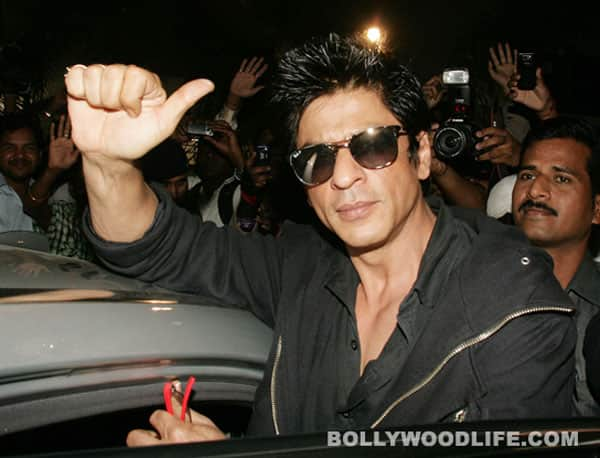 We are…we think. But our faith in the King Khan is starting to waver, because his devilish side is showing up a little too often, and the fracas at the Wankhede stadium at the end of the IPL match on Wednesday did not present his good face…
For some time now we at Bollywoodlife have been shamelessly cheering for our favourite superstar, Shahrukh Khan. Even as a few of our readers seem to think we are going all out to pull SRK down or be journalistically nasty to him, we have reported on whatever he says and does faithfully, quoting his tweets – if not him in person – whenever possible. We watch every film he is part of, even the robotically bad ones like RA.One, and cry when he dies many nights in a row as TV channels re-telecast Kal Ho Naa Ho or Dil Se. In other words, if you want to meet a committed group of SRK fans, come see us at Bollywoodlife.
But – and this is a pretty big but – right now we are wavering between wanting to give the superstar a nice big jhapaat for his bad behaviour and being willing to stand up for him as a father defending his babies. We will of course give him full credit for striving overtime to keep his son and daughter, along with other people's sons and daughters that he committed to escort, safe that evening at the Wankhede stadium at the end of the Mumbai Indians-Kolkata Knight Riders IPL cricket match. If indeed he was protesting the security guards' shameful treatment of the young people, we are fully on his side, cheering loudly as always, even as we tch tch a little at his vocabulary while he is doing it.
What really bothers us as a team is that SRK is losing his famous cool a little too often these days. He seems to be far more aggro than wethinks he needs to be, even though he has multiple worries to deal with – the crashing failure of Ra.One and the financial drain that must have been on his huge fund-bank, the persistent rumours of his dalliance with bootylicious co-star Priyanka Chopra, the seeming abandonment he could be feeling when his once-loyal core group of Karan Johar, Aditya Chopra, Farah Khan et al move on to doing films with rivals Aamir Khan, Salman Khan and anyone else who comes their way, stories about his wife Gauri Khan moving gradually away from him because of all this, and more. But does that warrant him losing his temper at trivialities? Taking panga with Aamir and Salman? Taking a swipe at Shirish Kunder?
Bollywood – and Mamata Bannerjee – is standing firm behind the troubled star. Twitter has been clicking out support from the who's who of B-town, with tweets like:
Karan Johar: SRK is one of the best fathers I know and protective about every child. He was being just that, a protective parent!!! Why blame a man who was just reacting as a father… who wouldn't have done the same in his place?
Celina Jaitley: "Speaking even as a new mother of twins, when it comes to one's children a parent will go to any length to protect them, SRK is a good dad. When it comes to my children I would go to any lengths to protect them, he was being a dad at that moment… are stars not human?
Sujoy Ghosh: Read about the SRK incident. I think @iamsrk was very decent about the whole thing. I'd have ripped their heads off if it was my daughter (sic).
Anurag Basu: SRK's behaviour is completely justified, I'd have smashed their heads if it was my daughter.
Vishal Dadlani: Straight up. Touch my family, I destroy you. No question. SRK was right.
Ronit Roy: I've got first hand reports of the fracas with @iamsrk. His daughter was touched and shoved. He protected. Well done Dad!! At Wankhede, SRK was a father, not just an actor… Please don't expect a father to apologise for protecting his baby.. Satyamev Jayate (sic)
Raj Kundra: SRK Banned from a stadium?? Ridiculous punishment for a father protecting his children! I can see many celebs boycotting this stadium!
Whose side are you on?  Do you think the MCA and BCCI are right to punish him for protecting his children? Do tell us.