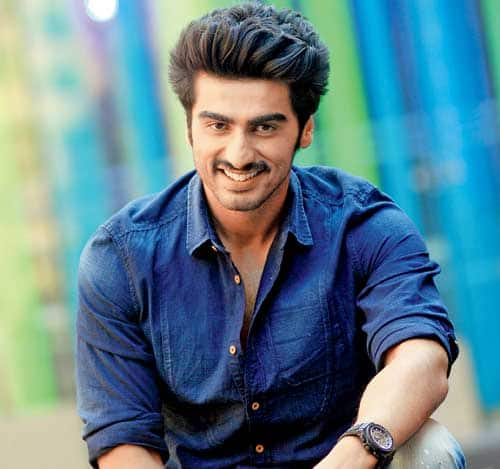 After delivering a noteworthy performance in his last film Gunday which minted Rs 100 crore at the box office, the Kapoor lad is now ready to woo the audience in an absolutely new avatar…
From playing a rugged and angry character to playing a coy and boy-next-door guy, that's exactly how I would describe Arjun Kapoor's transition from Gunday to 2 States. In Dharma Productions next venture, Boney Kapoor's beta will be seen romancing the very gorgeous Alia Bhatt. And though their onscreen chemistry is the talk of town at the moment, 2 States as Arjun says is not a quintessential filmy love story. It's much more than that. When we recently caught with the B-town hunk, he seemed super excited about his latest film and pretty confident too that the audience won't regret watching the adaptation of Chetan Bhagat's bestselling novel of the same name on the big screen. Read on to know what the lead hero of 2 States has to say about shedding his angry young man avatar, his pretty co-star Alia Bhatt and why he hasn't read the book 2 States.
From Ishaqzaade and Aurangzeb to Gunday and 2 States which fit into the typical Bollywood mould. How has your transition been as an actor from that cinema to this?
See cinema is cinema. The evolution has happened in the last eight to ten years that the audiences don't really differentiate to that extent and I find it little strange that we still harp on it 'ki ye laga cinema hai wo alag hai'. Today a Queen does well and also Gunday does well. Highway does well and a Ragini MMS 2 also does well. So cinema is a pretty universal language in that sense. I have never quantified it that 'pehle ye karunga fir woh karunga'. Obviously Gunday is more underline commercial massy entertainment but that is another facet of cinema. Ishqzaade I didn't choose, it chose me. Aurangzeb I did coz I felt that it was pushing the envelope in terms of doing a song less drama. And 2 States is something that really excited me and challenged me as an actor. I have always looked at characters which have appealed to me. I am just happy that I have got to do so many various roles.
Ishqzaade, Aurangzeb and Gunday were slightly in a darker space whereas 2 States is your first love story and after Shahrukh Khan, only Ranbir Kapoor has been able to pull off films in this genre. So do you think you are ready to face the audience with such kind of films?
Of course it's a difficult genre to crack. In my case more so coz a certain image of me has already been formed coz of my previous three films. So people will definitely see a different side of me and it think that's a refreshing change. And yes I completely agree that it's a tough genre but I think that's the challenge of being an actor. You play various characters and live vicariously through them and not think much whether I can or can't. I backed myself as an actor and therefore I chose to do it after Ishqzaade. It's a different thing that the film is coming out now. I know very few people can do such films again and again and look convincing but I liked doing 2 States. I hope I get more opportunities to do films like this. Also, it's not a romcom, 2 States is more than that which was exciting for me. Where most love stories end, this one begins. So I never saw 2 States as quintessential DDLJ or Kuch Kuch Hota Hai. It's a lot more than that.
Have read 2 States?
No I haven't… Chetan told me 'ab toh padh le'. I am not a voracious reader so I didn't read the book. When I was offered the film, there was a screenplay in the place and when I read the screenplay it instinctly appealed to me. When I met Abhishek Varman, I was very excited and I told him that I plan to read the book now. And he told me 'don't read it since you have not read the book you'll find your interpretation.' Somewhere he knew I related to Krish emotionally and that I was in a decent space to do the role.
Is there any similarity between your onscreen parents and real parents?
The conflict which is there in the film between me and my father… I don't want to give out coz that will take away that nice layer of the film. But that was never in my house. My upbringing and circumstances were very different from the film. But yes I co-related to the fact that Krish cares a lot about his mother. And that's how I related to my character. I felt a connect with Krish in terms of how respectful he is towards his family and how he conducts himself.
The response to your slightly softer and urban avatar has been nice. So is it satisfying?
See I would be naïve to think that they have accepted me in this avatar. Let the film release and depending on the fate of the film I will believe that they accepted me. Yes, they are intrigued by it and definitely there is more positive response than negative.
The book has already a wide audience and it has been loved immensely. But what do you think is the USP of your film?
Coz people have loved the book, they would go and watch. Wouldn't you revisit something that you love so much? Essentially we have adapted the book but while making the film we also kept in mind the people who haven't read the book. I would be interesting for people to go and watch the film and see if their imagination matches with ours. If we have fulfilled the potential of the book then it's good for us. We have done justice to the book but its not a big transition. We have just taken the book one step forward. And I am quite confident that nobody will be disappointed or upset with the way we have made this film.
How was your experience working with senior actors like Amrita Singh, Revathy and Ronit Roy?
The beauty is that these actors can easily adapt to any era. They are fantastic actors of that very reason. Individually talking, Revathy mam just had a calm influence on the sets. She being a director herself, she could have easily come with her own baggage and not agree to a lot of things that Abhishek said but she is so submissive. And she was always helpful to me and Alia. With Amrita Singh, it's my second film. From being a villain to being my mother within the space of one year, we use to laugh about it. Her biggest asset is her spontaneity. As for Ronit, I think his highs an lows have made him a better actor today. You can see the journey in his eyes. He has a very important role in the film though it's small in comparison to other characters but trust me without him this film would be incomplete.
 When we spoke to Alia Bhatt, she said you have a great sense of humour which is hard to figure as you always look serious. So tell us one thing that you discovered about her while working that surprised you.
She is much more mature than her age and I didn't know that coz I didn't know her at all before we did the film. I discovered that she is a very sorted girl with a fantastic head on her shoulder and that's why she will be a good actor. You need to be intelligent to be a good actor. And people didn't give her any credit for Student Of The Year apparently but she played the role that was given to her. I knew she was going to be a good actor and my validation came when people loved her in Highway. Her maturity surprised me in a very nice way.