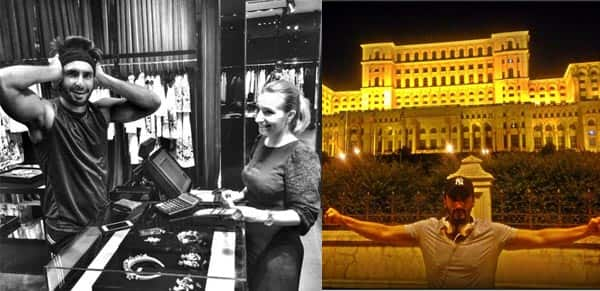 The best friends are currently shooting for a commercial together…
Arjun Kapoor and Ranveer Singh's certified dosti can put classic romantic sagas to shame. No, seriously. The way this duo has rubbished rumours about not willing to shoot for an ad together is commendable.
Although the two are shooting for the commercial currently in Romania, they have turned it into a working holiday! From tweeting pictures to taking evening walks these buddies are having a blast in Bucharest.
First Arjun tweeted a picture of Ranveer, shopping in the ladies section of a store (most likely for his lady love) with the caption, "Romania ka Raja" and later Ranveer posted a picture of Arjun posing in front of a grand building with the tweet, "Bucharest ka Badshah"
And the duo didn't stop at that. They wanted their followers to know more about the fun that went down behind the scenes. So Ranveer tweeted, "Before we went for r evening 'run' Ranveer baba decided to do retail therapy n have some fun…till he saw the price tags that is…#badbaba". And to get back at Arjun's poll-khol Ranveer tweeted, "We went for an 'evening walk'…I was admiring the beauty of Bucharest, while baba was admiring the beauties of Bucharest #badbaba"
Arjun and Ranveer's camaraderie is not just adorable we also pray that it never gets sour. We think that this #badbaba tag is too cute to handle and would like to see a selfie of the bad-bros together!