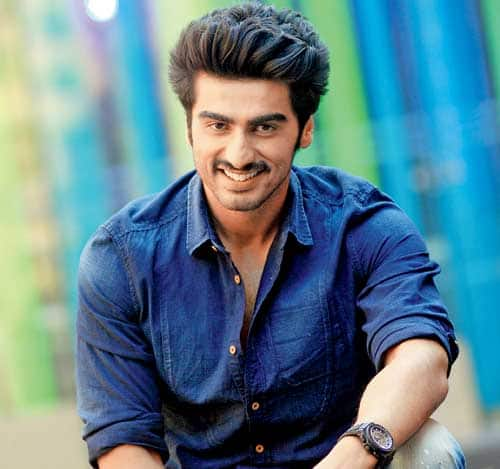 Arjun Kapoor doesn't smile. In the course of the interview, he admits that he's not a people's person. He seems closed, but he surprises me by opening up and speaking candidly about everything from losing his mom to the complexes of a fat boy (though four years ago he went from fat to fit)
When he talks, he talks. And not just in monosyllables (which is the most annoying trait an actor can have). Arjun has been typecast. He doesn't like it. Somehow he finds himself labelled as the macho man. While actors like Ranbir Kapoor (Besharam) and Shahid Kapoor (R…Rajkumar) are trying to get into that space owned by the Salman, Akshay and Ajay, it comes naturally to this Kapoor but It makes him uncomfortable. Understandably, as he wants to do all kinds of roles. He's sensible enough to know that he has to break out of the mould and has chalked out a plan. His next three films Gunday, there is 2 States and Finding Fanny, will showcase a new side of him. He hopes these films will prove his versatility and open up all kinds of roles for him. In a candid interview, he talks about his future, his fat days and females! Read on…
Tell me about Gunday…
It is a film that you dream about working on when you are aspiring to be an actor. It's like the films that you grew up watching… Ram Lakhan, Sholay, Deewar, Kaala Patthar etc that inspired you to get into films. It's the kind of film which gave the Hindi film hero personality and attitude. Gunday gave me the chance to play a hero. It is heroism in it's purest form.
But you have already done that in Ishaqzaade and Aurangzeb?
No. People think I have played macho roles but I haven't. I have been typecast or put in the bracket. But if you see the film with an open mind, you'll realise that in Ishaqzaade I get beaten up throughout the film. I don't raise my hand on anybody. The heroine slaps me, I get slapped by my mother, my grandfather, I am pretty much the worst person in that film. So there is no heroism and also in the end it isn't that I save the girl, and beat up the baddies like the hero. In Aurangzeb too, I played a bad guy, not the hero. And in the double role, I played a guy who is going through identity crisis and insecurities.
But that didn't come through in the films.
Actors get typecast because of what stands out in a poster, or a trailer or a song, and if we have a certain look then audience assumes, yeh action hero lagta hai so take home those images.
But you can't deny there's a certain machoism about your look.
It's probably the stubble. Also, I think that it sets me apart from the rest of my age group. Maybe I can do action, while other actors are still trying to get into that zone. In 2 States I am playing a geek with glasses with a book in my hand roaming around in an IIT college. It is slightly softer, younger film, I want to see how the audience reacts to me in that and Finding Fanny in which I am playing a way-out character.
Gunday is a two-hero film. Isn't it too early to take a risk?
The payoff of risks is amazing, I did Ishaqzaade without knowing whether I am coming or going, Aditya Chopra believed that I could play an anti-hero in my first film and see what it got me…
What was your motivation for Gunday?
To break the notion that two heroes can't exist together. Akshay Kumar and Saif Ali Khan are the last two of that hero brigade. Then later Salman Khan and Akshay Kumar did it.
SRK and Saif in Kal Ho Naa Ho?
In that Shahrukh Khan was Shahrukh Khan and Saif was coming into his own. I am talking about two equals. I mean even Ranveer's (Singh) my senior. He's a year-and-a-half older than me in films. But we almost started off together… The way I look at it, I think we pull this off, and it will open the flood gates and all the other actors will be willing to do it.
So there was no fear of being overshadowed?
No. We had a joint narration sitting with Ali (director). Adi called us and said, 'There's a script. We think both of you are apt for it, you guys hear it and decide.' We both agreed on the same day. I was very kicked because I feel that multi-starrers should be brought back. That's why the '70s and '80s were such a great time to do a Sholay, Shaan, even Yashji's films like Waqt or Deewar, Silsila, Kabhie Kabhie… So we both came together pretty easily without the worry of ego. Ego comes in when you are insecure about your own talent and what you can bring to the table. Also Ali etched out everything so clearly on paper that there is no insecurity. I feel I made a fantastic friend in the course of the film with Ranveer, We started out as people who know each other and have been on hi-hello terms at social events, but today our friendship has become deeper and more firmly rooted.
My opinion of him too changed when I met him. I thought he was frivolous..
A lot of people felt the same way about me…They also think I have a chip on my shoulder, I don't talk a lot, and I keep away from the media.
Yes, you are quite inaccessible.
Because I prefer it like that; when I have something to speak about, then I speak. I'd rather let my work speak.
Such a cliche!
See, if am shooting for a film which is one year away from release, I cannot talk about it. I couldn't speak about Gunday, 2 States or Finding Fanny so then people would find me cagey.. And my personal life is not very entertaining at this point in time.
It is? No love life?
My non-existent love life. I even went on Koffee With Karan with my Gunday co-star Ranveer! It was fantastic. I think after that episode people are going to confirm Dostana 2 with us (laughs).
So you are not seeing Alia ?
No, am not!
If you were, would you admit?
I am someone who would be open about my relationship. If I was seeing her I would have spoken about it. Currently, I am single and having fun…
You are not just saying that?
No, I am not lying.
So what were the rumours about your and her closeness at your uncle Sanjay Kapoor's house?
Sanjay and Maheep are my family, and Alia is a co-star and a friend who was invited to the party. I made sure I took care of her.
Guests spoke about you two vanishing into corners…
It would be very shameful if I was running off into corners in my uncle's home. There is a smoking corner in the house and that's where Alia and I were.
How do you feel about competition, there are so many new boys. It's never been this crowded and the older guys are still very much ruling the roost
People who are superstars now have made it there because they have survived an X number of years. We cannot touch them immediately. I think they are pretty secure in what they do. And we can't do what they do — Dabanggs and Rowdy Rathores.
If anyone can, it'd be you…
(Matter-of-factly) I will take that as a compliment. I would be lying if I say don't want to to do that. I want to do all kinds of roles. Entertain in commercial cinema along with interesting performance oriented cinema. It's not that I don't feel the sense of competition because I do. Everybody reminds you of it constantly, and I think it's healthy, it's good as it keeps you on your toes. But at the same time right now I am genuinely trying to see where I stand. You can only compete if you know where you stand.
Do you watch other actors' films to keep track?
I do. I watch everybody's films. It's not because I need to see what they are doing, I love watching films in general. It excites me that we are all different from each other, and we all need to find our space. Right now we are still at a nascent stage to take ourselves too seriously and watch each other's moves.
Where do you see yourself in this crowd?
I need to get that answer from my audience. I am putting myself out there. Maybe, a year from today after these releases I can tell where I think I actually stand. But this is the year of self-discovery for me. I would like to know where the audience would like to see me the most. I think there is a big pay off into taking risks, whether it's doing a two-hero film, doing a geeky romcom or a road trip film with a ensemble cast.
Do you talk to anybody before you take these risks?
Mom's not there anymore otherwise she would be the first person I would ask. Because she would react as an audience. Now my sister fits that space. I always give her scripts to read. Sometimes I make up my mind to do or not do a film but I want to get her opinion. But on a realistic level I always go to Adi and dad first. These are the two people I consider most important. I think Adi understands the pulse of the audience today because he's a contemporary filmmaker, producer director, distributor and he also has a bird's eye view of what everybody else is doing, so he understands how to break the market. And he can give me guidance on what suits me and doesn't.
You seem brooding onscreen. What about off-screen?
I am not brooding off-screen… I am very shy, and reserved because I believe it's better to speak less than be an irritating non-sensical soul. So I try and keep to myself, and people think I have a chip on my shoulder which I really don't. I can only break that image when I meet people. Anyway, I have a deadpan face, and droopy eyes so I constantly look like I am fed up, tired, irritated which I am not.
Yeah, and you never smile!
I smile when am in good company, when I am comfortable, but I am not a people's person. If I enter the room I don't like to be the entry maker, I am the antithesis of Ranveer that way. I like to blend. I am not the guy who would like to be at the centre of focus at a party. I like to observe and I like to keep to myself. I am social, but I don't become everybody's best friend.
Is the fat boy in you still alive?
The fat boy in me comes alive in social situations I am feeling slightly out of place, or when I am awkward, when I am meeting new people and am uncomfortable in the space…I feel like a fat boy who doesn't belong, who doesn't fit-in, who isn't good looking… It's gotten a lot better. On the set I never feel that way, I think that's why I like being on a set so much. I lose myself with all those people who become my family. I get to play a character that's not me.
Do you consciously fight it?
I'd be lying if I said I don't. Honestly, it's gotten much better since I have become a part of this profession and the acceptance has come. Today I am fit but the mindset doesn't change. I am today feeling very fat, because I couldn't work out for the last two days. After I workout today, I will be fine. If I don't work out I start feeling conscious about my body language and that affects how I feel about myself, which is not good. It's not like I get depressed, but it plays on my mind in ways only I will know.
They say boys grow up overnight after losing a parent, what changes do you see in yourself?
I think my sister grew up more than me, she literally takes care of the things that I should be. I take care of her in the monetary sense, making sure she has everything she needs, but emotionally I think she grew up faster than I did. It's arguably an everyday process, you feel you have grown up and something happens and you go back to being 'I wish she was around, and I wish I could ask her, I wish she could guide me'. But you go grow up… I lost the one person I cared the most about and I valued the most in my life, and was working towards making her feel proud and did not live to see the day, so it kind of puts all the success and the failure thing into perspective.
She told me that she wanted to hold on till your release day…
I wish she had lived for 45 days more… When people say I have a chip on my shoulder or I am arrogant it doesn't really bother me because I am not like that. I can' sit and prove these things to people. I have had my own journey. Everybody has shit in their life that they deal with. Mine's been slightly harsher because just when I was about to see my nicest moments, my deepest darkest moment came along. So Ishaqzaade's success never sunk in. Because I was reeling from the loss. And am still reeling from it on a daily basis.
SRK says whenever someone talks about spending time with their parents, he feels a tinge of regret and envy..even now.
It's true, that's exactly what happens. I was never an ambitious person. When I started my first film. I was very content with what I had achieved, I thought I will survive in this profession at whatever level, because I had a family a base. I had a backbone, and 45 days before my film released that backbone was snapped. After that, there developed this certain burning ambition in me to be the best possible in my profession. There is a desire to be so bloody good. I keep thinking why have I become so ambitious. I know that it is just to fill that vacuum in my life. For 26 years when you have not felt like being a go-getter, when it suddenly sets in, it is unsettling. Also, I realise that whatever I do to fill that vacuum, it's never gonna get filled. She will never be back. So, I have grown-up, but I feel I was more sensible and mature when my mom was around. Now I have become slightly more moody, more temperamental, I have become very different since she's gone, it has become very difficult to understand myself.
One gets a feeling that you are closer to your dad after your mom passed away. True?
No, I was always close to him. No one knew that because no one knew me before that. I went on holidays, I have been to events , award shows and have even travelled the world with him, I have spent enough time with him.
Are you like your mum or dad?
I am finicky like my father, food and things the way they should be, but my emotional quotient is like my mother. My understanding, my dealing with situations, is also a lot like my mom.
A little birdie reveals you recently shopped for some Rs 80 lakh!
I wouldn't shop for Rs 80 lakh, I haven't made that kind of money to splurge. I run my own house, I pay my own bills. Mom set it up in such a way that dad doesn't take care of us in the financial sense. He's there emotionally and he's a support but if dad still took care of us financially, it would take away from everything she did. She shifted out after she separated, worked to put up a studio and set us up. She wanted us to be independent and I have carried that forward. I lost the one person I cared the most about, valued the most in my life, and was working towards making her feel proud and she did not live to see the day, so it kind of puts all the success and the failure thing into perspective…The fat boy in me comes alive in social situations. I am feeling slightly out of place, in social situations where I am awkward about meeting new people… I feel like a fat boy who doesn't belong, who doesn't fit-in, who isn't good looking… It's gotten a lot better. On the set I never feel that way, I think that's why I like being on a set so much… It's not that I don't feel the sense of competition. I do. Because everybody reminds you of it constantly. I think it's healthy, as it keeps you on your toes. But at the same time right now I am genuinely trying to see where I stand…
Credit: DNA