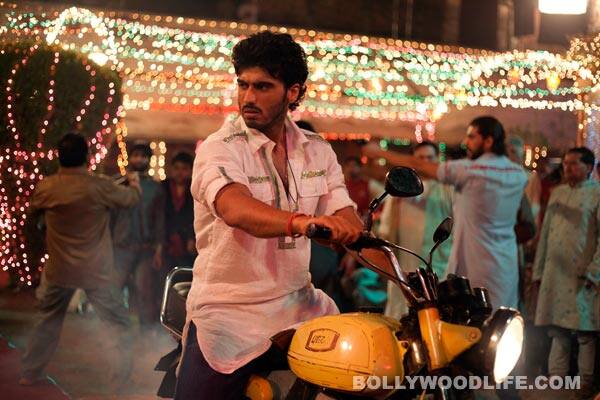 From a film producer's obese son who was inconsequential 'coz of his famous family to a ruggedly handsome actor whose first movie won him enough accolades to become a face worth noticing, Arjun Kapoor has found space in Bollywood. We had a little chit-chat over a hot cuppa coffee with the Ishaqzaade actor
The results of Ishaqzaade are out; the rustically set Romeo and Juliet adaptation has evoked mixed reactions from audiences and critics, but the loutish hero and the feisty heroine have been showered with positive adjectives for their performances. And that hero is Boney Kapoor's son, Arjun Kapoor.
It's been a while since the Habib Faisal-directed Yash Raj Films production was released. The 26-year-old Arjun finally has time to soak in the experience of being a movie actor. But there's one thing he hasn't yet had enough of. "Sleep – currently that's my only passtime," says the casually dressed actor who is still sporting the stubble he grew for Ishaqzaade.
Ask him if the untidy look is a personal choice and he says, "I am quite fond of it. It is easier to maintain. Actually I am also very lazy. I will go clean shaven in my next film, but I am still meeting the media, so I don't want to expose my new look."
The Mumbai born and bred actor's next is Aurangzeb, in which he plays a double role. But the increasingly media-savvy actor isn't willing to share too much about his second film with YRF. Ask him if he is bound by a contract to wrap up three films with the producers who launched him before taking on outside work and he responds with "Aurangzeb came at a point when I was free. The script was exciting. The characters are interesting. I play a double role. I have not planned that I will do three films with Yash Raj and then work outside," Arjun sets the record straight.
Even before Ishaqzaade was out of the cinema halls, chinwag was that the young actor didn't have time for his father Boney Kapoor's production. "When I do my film with Dad, I will be the first person to announce it from the rooftops. If you ask me honestly, my most exciting prospect is to work under my own production company and create something cool with my father. We are figuring out scripts to work on together. But only when there is something concrete can we announce the film," Arjun explains.
From being a producer's son who carelessly walked in to filmi dos wearing track pants and chappals to an actor whose every move is dissected, it must be a big transformation for the 26-year-old. He says, "I still can't believe my film has got made and released. I am still dealing with that bit. So media is another aspect I am still discovering. I can't believe they want a piece of me. It's not because I am somebody's son, but 'coz I have achieved something on my own. It's overwhelming."
But his most overwhelming experience was at Karan Johar's 40th birthday bash. It was his first party since he became a movie actor, though not his first as a filmi denizen. "I am industry child and everyone's always been very supportive… But the nice part (being at the party) is that they could all hug me at Karan's party and say I did a good job to my face. It was really overwhelming, also 'coz the time I took to reach from the entrance to the dance floor was two and half hours, because I met everyone and ended up talking a lot. That is the kind of adulation an actor looks for in the industry."
Does the newly minted actor called Arjun Kapoor have a career plan in place? "I don't know if you call it a strategy or a plan, but just generally I want to do good characters. I think if you become a good actor the audience will want to see your films again and again," says the Ishaqzaade dude. "I want to do Dhinka chika. I want to play a chocolate boy. I want to do intense, brooding roles. I want to do realistic films also. I want to do everything."
"I keep saying this – that there is no point restricting yourself as an actor, 'coz otherwise the audience will see you only in that light. You give them a gamut of emotions and performances, they will appreciate it if you are good in that film and they will not appreciate it if you are not good in that film. You can't get typecast unless you want to!"
Dhinka chika evokes memories of Arjun's relationship with the superstar who grooved to the Ready chartbuster. One day Salman Khan was promoting him on Twitter, and the next day he wasn't interested in talking about Arjun. "I wish I could call the media and take them to Salman Bhai's house and let them see for themselves my equation with him," frets the young Kapoor. "But that is not going to solve anything… We share a personal equation and I don't need to speak about it."
The Ek Tha Tiger star and Arjun's father Boney Kapoor saw Ishaqzaade together. The young actor maintains, "Salman is always one of the first few people I tell about my work. He is the one person who trusted his instincts and backed me. And I trust his instincts about me. So I share with him whatever I have in my mind, of course as much as time permits, 'coz he is always busy."
And that, we know, will soon become the catchphrase of Arjun Kapoor's life!