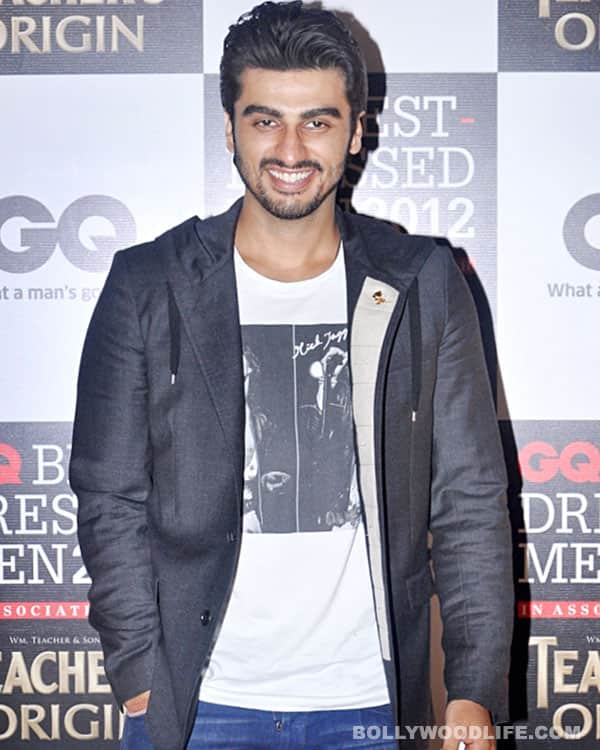 The young actor had played a small part with his favourite star in a film many years ago. Unfortunately, what he shot never made it to the big screen!
Okay, so we are guilty of stretching the facts a little. Boney Kapoor's son didn't exactly shoot for an entire film. Arjun Kapoor made a short and sweet appearance in Nikhil Advani's Salaam-E-Ishq – the Indian adaptation of Richard Curtis' Love Actually.
Sadly, the actor's first onscreen outing was chopped at the editing table. But even if his part had made it to the final version of SEL, as the Ishaqzaade actor says, "You wouldn't recognise me. I was overweight, wore glasses, had long hair, a unibrow, triple chin, and I was wearing a floral shirt in the scene."
Arjun fondly recollects the shoot of SEL. During an interview to BollywoodLife, the ruggedly handsome 26-year-old reveals, "There was a phase in my life when I started loving Govinda's films. So I was lucky that my first day as an actor on a movie set was with him."
The Ishaqzaade actor, who was an assistant on Salaam-E-Ishq, had a small role in a scene set in a taxi, with the comedy king of the mid-'90s next to him. Arjun recalls, "For one of the montages, I played a passenger. In the scene Govinda – a taxi driver – kept falling asleep while driving the car, so I had to ensure he stayed awake. Then I kept falling asleep on his shoulder. It was fun shooting with him."
Good for Arjun, 'coz this will make him believe that there's always an upside to a downside!