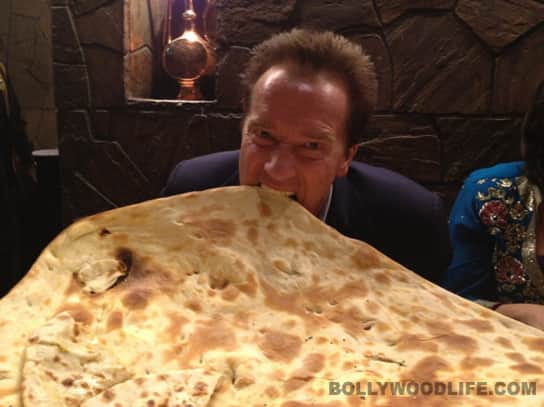 Hollywood superstar Arnold Schwarzenegger failed to turn up at an event to present Abhishek Bachchan an award for helping create a greener environment, but has congratulated him for the honour
"Congrats on the Green Globe, @juniorbachchan. More celebrities should be pumping up green progress. I'll be back, and we should get together," Schwarzenegger wrote on his Twitter page.The 64-year-old, former governor of California, was here to attend the 12th Delhi Sustainable Development Summit. He was due to be present at the Green Globe Foundation Awards Ceremony to present Abhishek with the Green Globe for Outstanding Efforts by a Celebrity award, but he did not turn up. However, Abhishek says he was not aware that Schwarzenegger was suppose to present him the award. "I had no idea, I was just told that I would get the Green Globe award. I was never told that I would get the award from him," said Abhishek. According to a source, "Wizcraft people had met Arnold and everything was sorted, but don't know why he didn't turn up at the last moment." Abhishek said he is willing to work with Schwarzenegger for a greener future. "If he (Schwarzenegger) thinks me worthy of helping him out for a greener tomorrow I would be more than happy to do it," Abhishek said.
Well, the Hollywood at least made the best of his short time in Delhi. After asking fans on Twitter tips for the ideal place to eat in Delhi the actor was seen enjoying the spicy Indian cuisine. "Arnold Schwarzenegger seems to be a big foodie. I overheard him asking people for some good local cuisine and spicy food," said Rajiv Chhibber, manager corporate communications TERI, the organizers of the summit. The actor then went to Bhukara, a restaurant in Hotel Maurya Sheraton recommended by one of his fans. Schwarzenegger's excitement regarding Indian food was quite evident with his tweets. "I loved the food. I've loved my first trip to India. Here I am with the biggest piece of naan in Delhi. Thank you all, especially @andyz136, for the recommendation to eat at Bhukara. It was fantastic!" he further posted. The star was seen gorging a humungous naan which was specially made for him by the chefs at Bukhara.