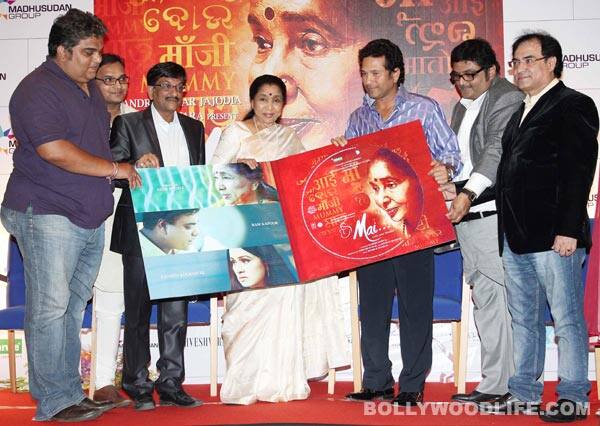 skip advertisement
The two legends shared the same stage at the music launch of Asha Bhosle's acting debut Mai, and gave us a peek into their greatness
It was a film music launch of a different kind. Mai's score and its making were hardly talked about and almost no sample was seen or heard. But with a legend like Asha Bhosle in the house…err..film, did we really need a promo? The veteran Indian playback singer is making her acting debut with the movie – and at 79 years old, mind you! And so, the event saw things like inspiration and will power being discussed in a chat show kind of set-up – reminding us of KJo's Koffee With Karan.
It was fabulous – even though she is twice Sachin's age, Asha said that he was among her many inspirations. Apart from her parents and her sister, veteran playback singer Lata Mangeshkar, Asha credits Sachin for motivating her to scale newer heights. "I've known him since he was 16," she said, "and as I watched him grow over the years, I thought if he could do it, I can do it, too."
But Asha was more vocal about Sachin's humility and general good behaviour, as she said, "Like a fruit-laden tree, Sachin jhukte hee ja raha hai… (even with growing fame and success)." He has always been there for her. Whenever she's called on him, he's never said that he's busy or playing. "Even today, he has taken time out and come here, although he had to be somewhere else."
Asha gifted Sachin a rare collection of his pictures that only she possessed. She also presented him with a trophy.
Well, there was some music talk too, of course. Sachin was asked which song of the famous singer he liked most. He quipped, "In aankhon ki masti ke from Umrao Jaan." Good choice, we must say. But why did the cricketer think it was her best? "Asha ji had sung this number for my wife Anjali and me when we met recently. That's why it's my favourite," he said, gesturing at Dr Anjali Tendulkar who was among the guests.
We're sure Anjali was blushing, and could not help smiling, as we thought of their love story. Looking stylish in a blue and silver churidar-kurta, Mrs T is grace personified and has been Sachin's backbone for 17 years. The master blaster acknowledged the contribution of his brothers, parents, Anjali and her family to his success. This was the first time Sachin was seen at an event in Mumbai post his retirement from one-day internationals.
The music launch of Mai was a rare glimpse into the relationship of mutual respect between two of the greatest living Indians – Asha Bhosle and Sachin Tendulkar. Mai releases on February 1, 2013. It is directed by debutant Mahesh Kodiyal and stars Ram Kapoor and Padmani Kolhapure as Asha Bhosle's son-in-law and daughter. The singer's granddaughter Zanai, who makes her singing debut in the film, was also present and sang a little for the audience. Other guests included Abhijit Sawant, Anujj Saxena and Daboo Malik, among others.
Photos: Yogen Shah