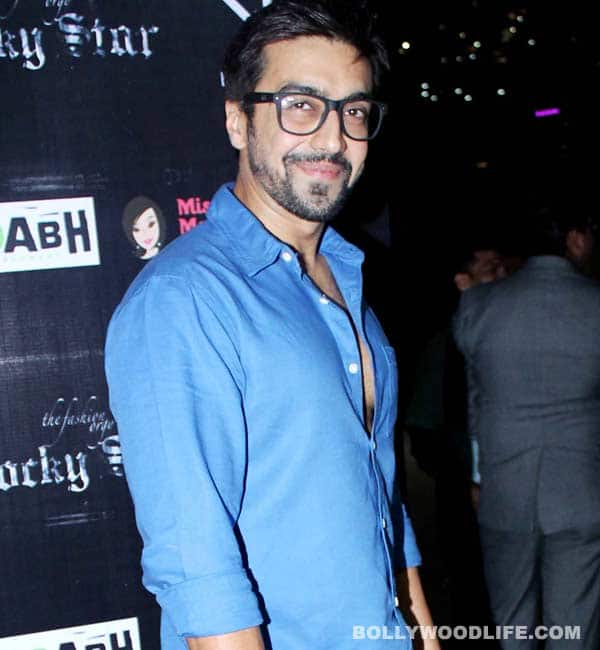 He is funny, knows his shortcomings and can take a joke about himself – how many actors can do that!
Ashish Chaudhary is charming and in no time has all the ladies swooning with his every word. The actor talks about his bankruptcy, his new show Ek Mutthi Aasmaan, his pending movies and about hitting rock bottom in his career…
What are you doing besides acting?
I have a security company and I have invested yet again in an advertising agency. I also got into technology, which tanked, but I am glad at least two out of three worked. I've always been involved in marketing more than operations, so the directors of my company are more than happy that I keep going back to acting, as it complements my business. I get to work and pursue my hobby at the same time; it helps my work because clients always find it cool when they have a known face. They give you a meeting. It's easier to give you work when they know you're not a fraud. So it works in my business.
Do you think you are being slotted as a comic actor?
I always knew I was slotted, but I didn't know I was so badly slotted in multi-starrer comedies! All the scripts that came to me were of the same genre. But it's better than not being offered a film at all. Luckily I have some great friends in the industry and I can easily approach any big director, but that's not me. I know I was forgotten, so I could not develop a role in a film that I wanted to do, I had to take what was given to me, which was multi-starrer comedies. Hence I decided, let's look into TV, because that had never happened till now.
Is that why you decided to try TV?
It's a new trend that's set in – now I can do both TV and movies. There are so many people who are doing both. Times have changed and TV offers came, which was very gratifying to me. All the channels were kind; all the producers were kind. And of them, Tony and Deeya Singh have been my friends for a long time. I had told them that I'd be doing television some day. Let's be practical – I can't live in a dream world where I keep doing films and perhaps become a huge star some day. One has to be more practical. You have to go as per your standing in the market. I was comfortable with Zee TV because I've been a big fan of Subhash Chandra as a businessman, right from what he did with ICL, amusement parks, satellite television…
What made you choose to do Ek Mutthi Aasmaan?
What I liked about this show is that it takes a domestic topic – but thankfully not a saas-bahu this time – and talks about issues between the house owner and house help. Those issues are way bigger than saas-bahu. This was something that no one had thought about before, so I liked it. The best thing I liked was that the show talked about empowering and uplifting these people, which brings in a feel good factor. And since I've been kind of involved with charitable work, it's close to my heart. Of course I used to do it more handsomely when I was very well-off, but I'm still associated with Masoom, a NGO in Mumbai; I volunteer for them. So somehow it felt good that I'm doing such a show.
Even though lines have blurred between TV and films, TV artistes still find it difficult to establish themselves in films, whereas for a film star it's much easier to enter TV. What do you think?
You're very right with this, but I think a lot is based on popularity. Today Ram Kapoor and Ronit Roy are doing decent roles in films; their popularity is at that level. Films – yes, there is a spillover even today. In films, even if you're character actor, you can be a lead actor in TV, but in TV if you're a character actor, you cannot be a lead actor. So that is a spillover. The change is happening; it's not complete, but I think we should be grateful enough that at least the transformation has started. By the way, TV stars are way more popular than film actors, I know. So it's a calculated move for me, honestly, I feel that I'd get better roles; I hopefully won't get only comic roles after this show.
Do you believe that TV would give you more exposure than films, with better roles?
Yes, if I can't go beyond my last performance, then my career in films will tank, as I've already stagnated for three years now. If I come back with something worse than Double Dhamaal, then my career will go downwards. So yes, I wanted to do something different. However, that was not my only incentive; there was a good 50 percent about remuneration and a constant flow of income, which is very important for my family. Three years ago I didn't just hit zero, I was looming in minus figures, so it was like a restart in life for me. Right now my priority is securing my four kids – my three kids and my wife. I think I've gone through the last of my worst. I don't think I need to be afraid of anything now, because two and half years back I felt that life was over. So this could be my new innings as an actor.
As a viewer one would obviously appreciate the approach of the show, as it's issue based. But being a Bollywood actor, why didn't you opt for a male oriented show?
Like I told you, I'm a businessman first and I know that this is a women-based medium. If I try to make a male oriented show it won't work in today's day and age. In addition to that, I'm not at an age, time, and position to experiment; I have to go with the flow of the market. I want to do something right, I want to achieve something I've not achieved before. I somehow feel that I have made the right decision and I hope I'm right.
What kinds of projects would you do after this?
After this I'll do films, I wouldn't mind doing comedy multi-starrers, but doing only that would not take my career anywhere. I'm thankful, because not many people get acceptance in that bracket of a comedy multi-starrer – at least I got that. Now I'm looking at a growth, both financially and in my career. But I won't keep away from comedy, as the audience loved me in it. And let's hope that this show will change the kind of roles I'll get in films. I am looking forward to a variable kind of cinema.
As compared to daily soaps, a reality show gives you good money – why didn't you opt for that?
Do you know I am offered Big Boss every year? In fact, the first season was offered to the whole team of Fight Club, but somehow it didn't work out. I've been offered Jhalak Dikhhla Jaa and Nach Baliye, but I don't know how to dance very well. I'll be cheating myself if I got into it. I'd know I would be going only for money.
Once you start getting good projects in Bollywood, would you consider doing TV again?
Yes. In fact, I want very much to do that. I would love to strike a balance – play great roles on both television and films.
What is in the pipeline in Bollywood?
Total Dhamaal is in the pipeline. We're waiting for Sanjay Dutt sir – I've got two films signed with him, including Satte Pe Satta and Total Dhamaal.