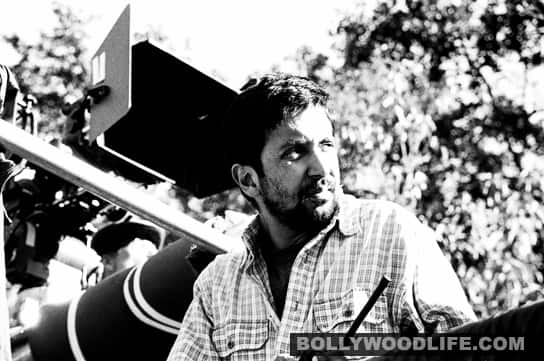 The Little Terrorist director, who is back with a thriller in the form of The Forest, speaks about making inroads into mainstream Bollywood and what keeps him going despite the faulty distribution system
It has been six years since the Little Terrorist was nominated for the Academy Awards, but director Ashvin Kumar is still waiting to see his feature film The Forest hit the screens. His baby has been lying in the cans for five years now. "The Forest was complete and ready to release five years ago. We had a distribution deal with a production company in place. But at some point they just stopped taking my calls. We had everything – high production values, thrilling content and decent actors," he says.
PVR has finally decided to back the film which stars Nandana Sen, Javed Jaffry and Ankur Vikal and release it as a part of an initiative called Director's Rare. Slated to hit the screens in the month of May, The Forest is a thriller where a husband and lover lock horns over a woman against the backdrop of a forest and a man-eating leopard.
Ashvin does not shy away from saying that it is the faulty distribution system that was one of the main causes for the delay of his movie. Clearly, the lack of big stars worked against film. "There are only about seven to eight big stars and everyone now does only one film at a time, which is a good thing. But if everybody wanted to make a film with them, then we would have only about ten releases a year – and that cannot happen," he insists. What's interesting though is that Ashvin has resisted the Bollywoodisation of his films. Even after the international popularity of Little Terrorist, the director hasn't been tempted to jump on to the mainstream Bollywood bandwagon. "If I wanted to earn money, I could have run a real estate business or something. But the reason I am making films is because I am passionate about cinema. I need to be true to myself."
The delay didn't bog the director down as he moved on to his next project, Inshallah Football, a feature about an aspiring footballer denied the right to travel abroad on the pretext that his father was a militant in the 1990s. But this one wasn't an easy ride either. There were censorship issues over some graphic descriptions of mental and sexual abuse that got the film into trouble.
It finally saw an Internet release this year on Republic Day and has received over 50,000 hits. "Nowadays media houses charge money to even do an editorial story about your film. It is sad. I have relied completely on online and social media for the promotion of my films. The younger audience is Internet savvy and open minded."
His next after Inshallah Football, Dazed in Doon, which was shot at the Doon School, Dehradun, also had to go over several hurdles. The headmaster of the Doon School filed a petition with the Ministry of Information and Broadcasting and the Censor Board and the film was finally given a U/A cerificate. There were also issues with the ownership of the project, as the school began to stake its claim to it.
All said and done, Ashvin is not averse to commercial cinema, but thinks that the system can be run a lot better than it currently is. "Commercial cinema basically involves casting a big star and/or making your film salable. But considering the number of flops every year, Bollywood's system has obviously failed. Fine, Bollywood is a business, but we should at least look at our balance sheets and understand where we are losing the money. Here people are treating it like a big gamble," says the Little Terrorist director, who is heading towards the more mainstream cinema with his next film, Hype. "It is a story involving fashion and high society, so there is scope for accommodating the commercial aspects. I am planning to cast a star in this one. So hopefully it should find a wider release."
Ashvin has been constantly fighting to get his productions out there for the viewers to see. The recent success of Paan Singh Tomar has renewed his faith in the fact that good content sells. "A film can run on word of mouth. Why do we need to make a film a hit on the opening weekend itself. One can build it slowly over four to six weeks and it can do big business over time."
Even though he can rattle off the formulas and the mathematics of running the film business, Ashvin's choice of subjects and his intense passion for writing his own films makes him a sort of rebel. An ardent follower of Mohsen Makhmalbalf and the Cohen Brothers, he is hoping that his future films are seen by more people. For now, he just wants to see his Hitchcock-style thriller shot at Jim Corbett Park, The Forest, to reach the audiences and he is sure that it will find its own followers. As he says, this generation does look forward to more 'liberal and open-minded content'.
READ MORE INTERVIEWS
Sriram Raghavan: I don't think anybody other than Saif Ali Khan can play 'Agent Vinod'
Vishal Mahadkar: The easiest thing would have been to bring Emraan Hashmi on board