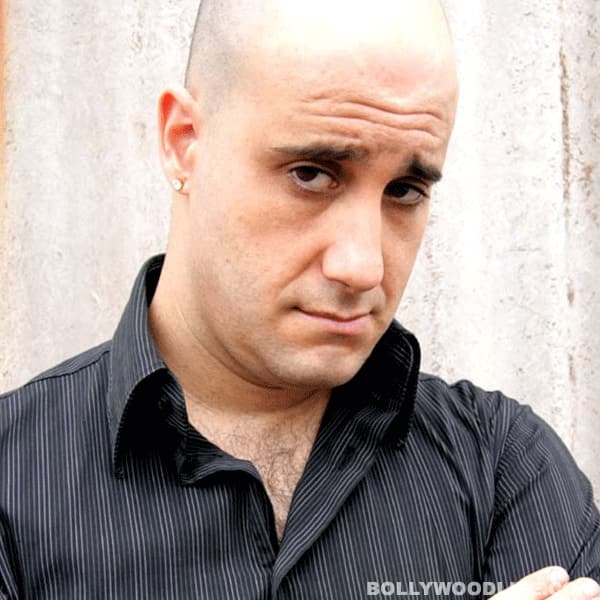 You have seen him, you remember his face, only that you might not have a name to connect with and that is his quest; to transform from 'That guy in Lage Raho Munnabhai' or that advertisement or that play, to 'Oh here comes Ashwin Mushran'. He will be seen in Sandeep Mohan's Love, Wrinkle-Free, an indie film that releases this Friday
Bollywood is a difficult place to be, unless you have a filthy rich dad backing you up or you come from a film family, or if you are really lucky enough to bump into a bunch of people who are a part of some 'lobby' that will keep you in business. Apparently, Ashwin Mushran has chosen the harder way up the ladder and prefers to remain the person that he has been. He always wanted to be an actor and was lucky that his parents supported his ambition and sent him off to England. There he learned his acting chops and came back to pursue an acting career in Bollywood.
You were recently seen doing a cameo in Rohit Dhawan's Desi Boyz, what made you do it?
I was paid for it. Well, that apart, there are some choices that you have to make, because at that particular moment, it is better than the rest of the stuff that is being offered to you. 'Why did you do that role' is one of the most frequently asked questions that I have to deal with, but the fact is that after doing so many advertisements, when the man on the street spots me, he still says, "Hey, Munnabhai MBBS." The person might not know me or the other things that I dabble in, but a cameo appearance in that film has given me more recognition than I had bargained for.
Theatre, dance (Salsa) or cinema…what excites you the most?
For the longest time I have wanted to be an actor and the kind of exposure a cameo appearance in a popular film gave me, it is incomparable to what I collectively derive from theatre and dance. Theatre is important for me to polish my craft as an actor, dance is a passion, from which I choose not to earn from. As it is important to take care of the bills, I take up acting and voiceover jobs as and when they come up. As far as acting in films is concerned, I am in a position where I can decline a smaller role if I am busy with any other project or if I think that I am getting a raw deal. Thanks to my plays, I have travelled throughout the world and have built a formidable reputation as an actor. People have a tendency to say that if you appear in an advertisement, you are a model, but I just look at every opportunity that comes my way as a medium to enact various characters.
You have worked with an established filmmaker like Rajkumar Hirani and a newbie director like Rohit Dhawan…any observations you would like to share?
The most important learning is that a director should essentially be a good human being who is not stuck up about his celeb status. Hirani is one of the nicest guys in the industry and he ensures that he has a warm conversation with all his actors (irrespective of the screen time they might get) which gives them the scope to perform. What I admire about Rohit Dhawan is that he has a vision that he doesn't want to compromise on. I remember an instance during the shooting of Desi Boyz, when Akshay Kumar wanted to do a scene in a certain way, Rohit put him in place, saying that he wanted the scene to be filmed the way he had visualised it, as he was the director of the film. Akshay complied without much ado and that was when I felt that this guy (Rohit Dhawan) will go places.
Do you think you are being typecast as an actor?
It is really weird that just because I played a gay character in a film or two, or if someone perceives me as a stand-up comedian, I am subjected to the stereotyping. Thanks to the fact that I have alternative ways of keeping myself busy (like being a voiceover artist) I can say no to such offers. I can earn as much as a voiceover artist in a couple of hours, as I might make in an entire shift in a feature film, and that's very liberating. As an actor, my voice is one of my biggest assets and I am able to put it to good use.
Have you set any benchmark for yourself, as an actor?
Primarily, I think I am a good actor, so I haven't thought of any such benchmark. It's another thing that as an actor my potential hasn't been tapped in the films, which I have done so far. Having said that, I also find myself in a zone similar to that of an actor like Boman Irani. I started off a little late, but my capabilities are way beyond what anyone has seen me doing. People who have seen my plays feel that there is a lot more to me than what I have been doing in Bollywood so far. I wish to be a part of interesting films and am waiting to sink my teeth into roles that have been written keeping me in mind.
What do you think is the way ahead?
One of the biggest challenges of Bollywood is, to get out of the zone where people who are not talented get a string of opportunities just because they come from a filmy background. I am proud of whatever I do, but hard-selling myself is something I just cannot convince myself to do. I did Fashion with Madhur Bhandarkar but I cannot call him up and ask him to cast me in his forthcoming film, Heroine. If he thinks I suit a certain part, he should call me. I am not ready to 'play the games' of Bollywood. I am what I am, irrespective of whoever you are. I will not bow down to anyone who hasn't earned my respect. Whatever people might say about Shahrukh Khan, I respect him for the simple fact that he has been a self-made man, which is what I am too! I am proud of the fact that without belonging to any lobby I am getting work and am being noticed, even for the briefest roles that I essay. PR agencies might not think that I am worthy of their time, but I am waiting for the time when my work becomes my PR.