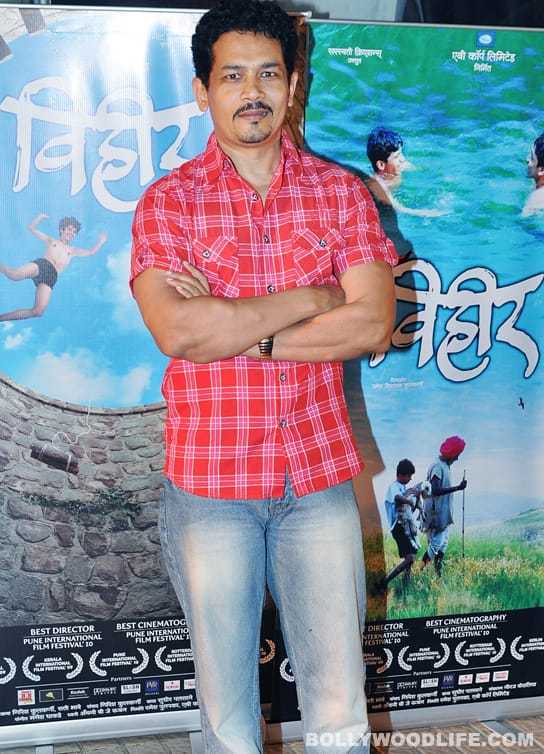 He is the quintessential character-actor who doesn't just mould himself according to the role, but raises it a notch higher. Atul Kulkarni's charming smile, humble attitude and talent make him a star in his own right
In conversation with us, the star actor who dons the character of Bobby in his forthcoming flick Chaalis Chauraasi, where he plays a cop and an aspiring singer who can't sing to save his life, speaks of his new film and much more.
Chaalis Chauraasi – what's it all about?
The film is about four cops. The plot revolves around a plan directed by Sir (Naseeruddin Shah) and how they try to achieve it and all the mess they create in the process. The entire film happens in one night in a van. The number of the van is used as the title of the film. You'll have to watch the movie to know what the plan is and if they manage to achieve it or not.
Who is Bhaskar Sardesai aka Bobby?
Bobby – played by me – aspires to be a singer, but he doesn't have an ounce of talent in him. Interestingly, my name is Bobby because Bobby was one of our director Hriday Shetty's favourite films. Hriday loved Mahesh Bhatt's Sir, hence Naseeruddin Shah is called Sir in the film. Kay Kay Menon's name is taken from Albert Pinto Ko Gussa Kyon Aata Hai and Ravi Kissen's name is lifted from Amitabh Bachchan and Dhilip Kumar's popular movie Shakti.
What caught your eye when you were offered this role?
Whenever I am called for a script reading I interpret it from the point of view of the regular movie-watching audience. If it appeals to me as a viewer, then it appeals as an actor as well. The story should be good and the story teller should be even better. They way Hriday narrated the script to me, I knew I had to do it. In addition to all that, if you have a wonderful cast like Nasseeruddin Shah, Kay Kay and Ravi, there are no further doubts. With an interesting starcast like that and an intriguing and surprising comic story, there was no reason to say no.
Naseeruddin Shah, Kay Kay Menon and you – all hail from a theatre background. Did the common ground make the first day of the shoot any easier?
The thing is, this is not my first time with any of them. Naseeruddin Shah has been my teacher in theatre. Kay Kay and I have acted together on stage before. So it was not awkward or nerve wrecking on the first day. Yes, this was the first time I shared screen presence with Ravi Kissen, but we had all begun to get along very well during the script reading held at Naseer sir's place.
You've played bad cop before in Dum; are you repeating yourself?
I was a complete baddie there. Chaalis Chauraasi has a comic angle to it, and I am playing a grey shaded character. So no, I don't think I am repeating myself. And playing a good guy sometimes is not challenging enough. Not that anything is simple to act, but I avoid simplification. Moreover, nothing is black or white these days. The narratives have changed; it's just the media that still requires categorising.
So what's your forte – comedy or drama?
Frankly, my forte is acting.
You are the superstar of Marathi films; given the option of a great director and amazing script in both a Marathi and a Hindi film, which would you choose?
Well, if both are equally good, then I'll choose whichever comes first. Language has never been a criterion to do a film. Time will be the only factor then that would have importance.
Lalit Pandit and Vishal Ranjan's music – your comments…
The songs in the film flow with the script. The music is not planned in a way to make an album. That's the reason it has only three songs. They've reprised the song Hawaa hawaa, which in its time had sold about 2 crore and 50 lakh cassettes. The song is very nostalgic. Moreover, that's the first time I actually did a dance number. I was so excited to do the number that during the shooting of the song I would reach the sets an hour early and begin practicing. So much so that my choreographers would tell me to chill or I'd be tired for the real shot! We shot the song for six nights and they have been the best time ever. The other song I love is Setting zaala.
In the 30 nights of film shoot, which has been the most memorable moment?
No one moment to specify, actually. But after the shoot, none of us went back to our vanity vans. We'd all huddle and talk about our experiences and discuss general things happening around us. It often reminded me of my Rang De Basanti shoots. The chemistry with co-actors made the whole experience very special. Credit ideally goes to Hriday and Naseer sir. You don't experience such things in every film.
Given a choice, would you play any other role of the four cops, besides Bobby?
Well, I can't play Sir, as you require someone senior to play that. As for the other characters, I'm sure I could do any of them. But I like my character more; he is intense, confused, messes up things all the time and that's what makes it different.
Your future projects?
I have recently signed a Bollywood film, but I can't say much about it. Then in April my first international project, Singularity will go on the floors. So I'm really kicked about it.