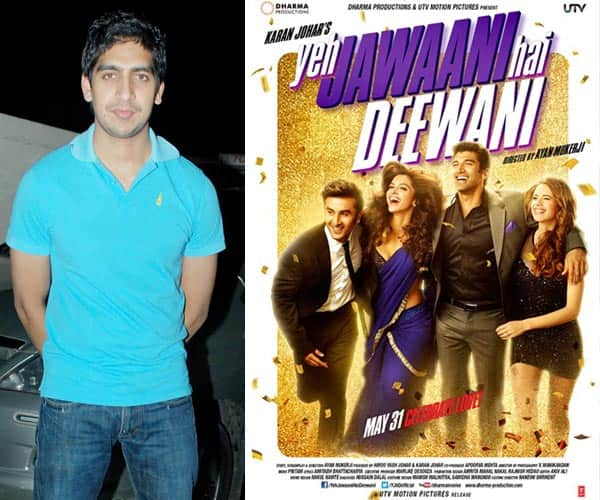 The director is all set with his second film Yeh Jawaani Hai Deewani and spills the beans about casting Ranbir and the actor's former ladylove Deepika Padukone in the lead roles, and much more….
The 29-year-old director gesticulates passionately while talking. He loves to lay that extra emphasis on his words by moving his hands in an animated manner. There's something very interesting about Ayan Mukherji's body language. Munching on a huge heap of chips in front of him as he speaks, the timbre of this young filmmaker's voice oscillates between a contemplative tone and a fun baritone. Addressing everyone politely as 'ma'am' and 'sir', Ayan puts across his point in an amazingly intelligent manner – he almost wins your heart. He doesn't sound arrogant at all when he says, "I am going to sound arrogant when I say that Ranbir and Deepika are in the pink these days and people who think that female actors usually don't match up to Ranbir's performance are going to be proved wrong after watching my film." Amidst all the hoo-ha about YJHD, he doesn't forget to shower the producer of the film Karan Johar with unqualified praise. "Karan is the most generous producer. He is one of those who doesn't mind earning Rs 2 crore less if that helps in improving his film," he says.
Mukerji in a no-holds-barred conversation with Bollywoodlife…
It took you four years to direct your second film…
I needed the time to make this film and to make it correctly. At many levels I needed to understand what I wanted my film to be all about. Writing it correctly and then mounting it correctly – creativity doesn't cater to timelines. This is the time the project needed to come together. And that's absolutely okay, 'coz I don't have that mindset wherein I feel I that I should make one film in one year. Maybe the next film will come after five or six years.
You have written the story, right?
The germ of this story was in my mind even before Wake up Sid. In many ways filmmakers carry their story along with them. Also I think I couldn't express myself completely and fully in Wake up Sid, as I was still finding my feet. In YJHD I was able to express myself with much more openness, nakedness and more deeply. The film is about many different facets of life I was trying to understand. It's about friendship, love, marriage et al.
So was there a specific moment when you thought you should make this film?
The specific moment when I first knew I had to make this film was six months after I made Wake up Sid. We were all dancing at the sangeet ceremony of a close friend's wedding. It was 4 in the morning and we were drunk and dancing to a Govinda-Karisma Kapoor song; it was an absolutely filmi moment. It is an out-and-out masaledar number, but the kind of emotion it created – a deep kind of joy and connect had formed between me and my friends. And somewhere I felt that this feeling should be captured in a film.
You cast Ranbir and Deepika in the film – why? You never thought of it as a risk at all?
I cast them 'coz they were right for the part. Me and Ranbir have developed a very deep friendship over the two films that we worked on. So I suppose in a subconscious way I am writing for him and I am grateful that he's agreeing to be a part of my films. A lot has been said about Ranbir and Deepika being ex-lovers, but honestly we were just trying to find someone who looked right with Ranbir. It took us time to realise that Deepika was perfect for the role. In some way, we represent the newer generation in Bollywood. But work wise, what I love about our generation is that the two dating at one point was really not a big deal. Despite the whole Koffee with Karan drama, today we make jokes about the fact that they were in a relationship. It's all cool and comfortable between us.
Ranbir and you are such thick friends; does it ever get difficult to work with buddies 'coz, no matter what, the director has to be a taskmaster at the end of the day…
Honestly, the truth is that it's only a privilege. Me and Ranbir had more fun while making our first film. With the second film, we got into our roles very silently. I guess life has its own way of setting up relationships.
What are the changes you have observed in Ranbir over the years?
Ranbir is grown up. He's in a different kind of a space. He is quite different now that he is 30 than he was when he was 25. He's more comfortable in his career and knows himself as a person. The level of maturity that he has gained as a human being has specially helped us in forming this film. In a film like Barfi!, it may seem like it came easily to Ranbir 'coz the personality of the character is somewhat similar to his, but it's actually very difficult, as you have to bring a lot of your own life and personality to the fore for interpreting a part like that. Ranbir's understanding of human emotions has become deeper. The manner in which he approaches a role has become deeper. In Wake up… he was genuinely very childish. Now he has sobered down in a nice way, in a way that would define the flavour of Yeh Jawaani…
Why did you choose a classic number as the title of your film?
It was such a famous song. It's one of those phrases that's stuck in the minds of people. Honestly, we are just banking on the magic of this song. It was my idea; I and Karan were discussing and I suggested it to him. In an odd way, in the actual song, it's a guy singing it to a woman. And while we have taken the catchphrase, our intention is to encapsulate different shades of just being young, the madness of youth.
You went to Argentina to make an international film, we hear…
I went to Argentina just to holiday. I went there to be all by myself for a month. I went there because our Hindi film industry may be an amazing place to work in, but you realise that you only end up hanging out with a set number of people. I want to keep reminding myself to continue tapping into the world outside of Hindi films so that in some way I don't stagnate as a filmmaker too early in my career.
Why a slice of life or coming of age film the second time over?
When you see the whole film, you will realise that there's obviously a heavy shade of a typical Dharma film. But more than anything else, when I set off to write a film, I don't think I analyse it intellectually. To me that intellectual thought doesn't arrive that if I have done this in my first film, let me not repeat it in my second. For me it has to be an emotional and not an intellectual instinct. There was a burning desire to say and do a lot in this space. To me Ranbir in Wake up Sid and Ranbir in Yeh Jawaani represent very different kinds of youngsters. In Wake up Ranbir played a boy who was still trapped in adolescence, while in Yeh Jawaani he plays a boy who can't wait to embark on his adult journey. In fact, he seems to know exactly what he wants from life. Wake up was about a lukkha, whereas Yeh Jawaani is about a guy who's raring to go.
What was the vibe while shooting for Balam pichkari – that song is a rage already!
It was a hard film to make, but Balam pichkari was the only exception. Normally we take five or six days to shoot a song, but since Deepika had to complete a schedule of Chennai Express, we had to finish the song in three days. We didn't know how we were going to do it. We were totally unprepared. But there was something about the song; it was really like a party. It had an energy that made people work longer and no one wanted to go home!
What are your views on remakes and sequels that are so popular these days?
Look at the Batman remakes – it's all being made more contemporary. The new generation that didn't watch the film in the '60s…. remakes gave them a chance to see Batman in a new light. I am totally supportive of remakes!
 If not a director, you'd be….?
I would have been a supporting actor (laughs), a writer or an editor maybe – obviously something to do with films. My whole life has been surrounded by films.