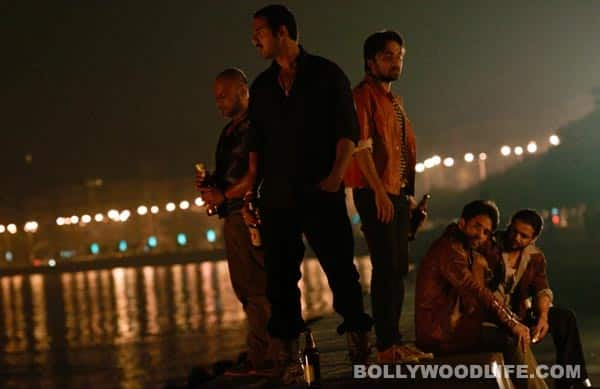 The latest song from Sanjay Gupta's action flick is just about average but with some great cinematography
Sanjay Gupta has loaded Shootout at Wadala with a whole lot of item songs. So it was a pleasant surprise to come across a number where there were no unnecessary loud and fast beats or latka jhatkas just for publicity sake!
The song Aye Manya shows some good old-fashion male bonding taking place along the streets of Mumbai. In the video, we see John Abraham driving an open jeep, as four of his cronies including Tusshar Kapoor and Siddhanth Kapoor follow him on motorcycles. It seems John is pissed off about something and his friends try to pacify him with beer!
While the song is strictly average and the music is nothing great, what stands out is the cinematography. The dim streets of Mumbai look familiar and the smoky atmosphere that Gupta has built is definitely striking. Looks like the director has retained his Kaante touch while making the song!
Check out the video of the five hunks chilling out on Mumbai's streets midnight!
[jwplayer mediaid="212565″]