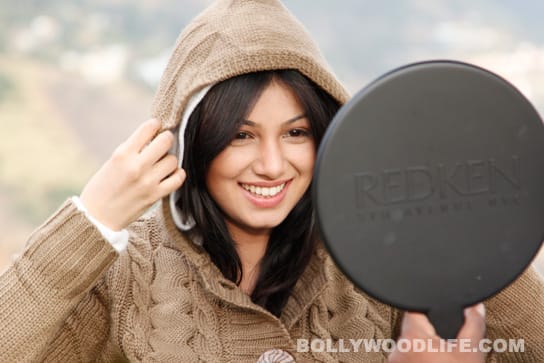 After a short break Ayesha Takia, happily settled into married life, returns to the silver screen with Nagesh Kukunoor's Mod. In a quick chat the talented actor reveals that henceforth she will only do roles that will go down in the history of worthwhile Hindi cinema
While everyone thought that Ayesha Takia would not act after her marriage to long-time beau Farhan Azmi, she did not think so. She wanted to do films that would touch and move her and her fans. So once again she teamed up with her rakhi brother and favourite filmmaker Nagesh Kukunoor for his forthcoming Mod. Apart from her personal rapport with the director, Ayesha says, "The role is a woman-centric one, but apart from that I am a sucker for romance. So if someone is trying to tell a story about love, I would love to be part of it. When Nagesh said it's his first love story and it centres around the journey of this girl, I was excited to do it. And it has proven to be so, as I have watched the film several times and thoroughly loved it."
Though Mod is a love story, it is a remake of a Taiwanese film called Keeping Watch. Did she watch the original film? First, a correction: "It is an inspiration and not a remake," and then, "No, I haven't watched it. I don't like to watch the original because as an actor, even subconsciously, I don't want to take anything from another actor. I wanted to play it my way, so I did not watch it."
Unlike Ayesha's earlier films, Mod isn't a conventional song and dance masala movie. Does that mean she will no longer do any jhatkas and matkas onscreen for her fans? "I would love to be part of films that are great fun and not just where I have to be a bimbette in the background. It has to a role that is dignified," says the actor and continues, "I totally love those films, but as an actor everyone evolves and wants to do different things in life. I just want to do things that I can be proud of in the future." And by that, she means a role that would be remembered even ten years down the line, something like her character in Dor.
Now that is very rare in our film industry. Roles like that are usually written for a handful stars (usually top ranking actors). However, that doesn't bother her. Ayesha says, "You know, I don't think about business of cinema or the market forces or what goes on behind the scenes. I am very fortunate that despite coming from a non-film background, as an actor I get to do good work. My journey in Bollywood has been great, especially as I have never been strategic about my next move or ultra ambitious. I am sure that people who are planning a career a different way might be, but it's never been about being number one, two or three. I do what makes me happy. I have been fortunate to get roles that fit into my lifestyle. I am very fussy and choosy actor about a lot of things."
Don't think that she is twiddling her thumbs waiting for an interesting script. Ayesha has turned into a businesswoman, helping her hotelier-husband in their hospitality business. Recently she started a café – Chai Coffi – in Mumbai and very soon wants to open a boutique hotel in Goa. And that's the big change in her life post the wedding in March 2009. "Life's pretty much same after marriage, except that I am doing more in the restaurants and hotels business. That's the only change in my life," smiles the pretty lady.
But she isn't interested in going all businessy when it comes to movies, perhaps to become a producer, like Lara Dutta, Dia Mirza and Ameesha Patel. "Not at all. As I said, the business of cinema is something that I have never really understood or something that I want to get into. I only want to be a creative part." And that means it's going to be a long wait, because this actor wants substance over commercial success.