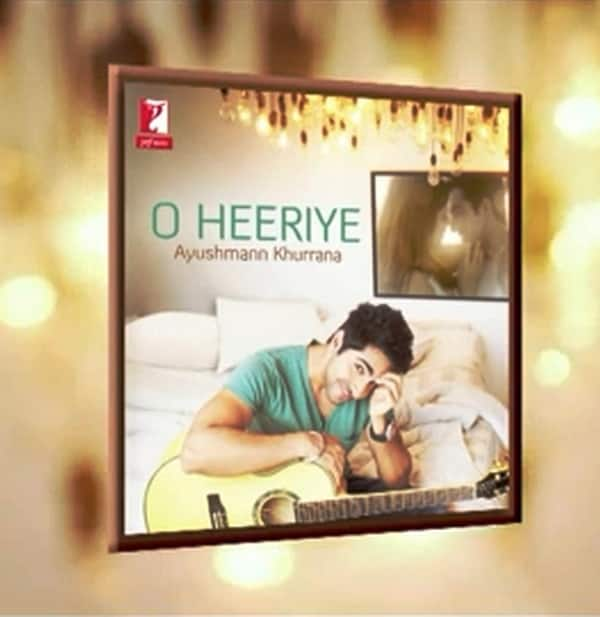 YRF Music released the actor-singer-anchor's first single on his birthday today
Born on September 14, 1984 in Chandigarh, Punjab, India, Ayushmann Khurrana turns 29 today. The actor-singer's got a unique gift from YRF Music on his birthday – his first single!
Ayushmann Khurrana's first single O heeriye!

Titled O heeriye! (watch video below), the love song was released by Yash Raj Films today. And rather than saying it was their present to Ayushmann, they termed it as the Vicky Donor actor's return gift to his growing number of fans, especially fans of his singing. After all, Ayushmann's song Pani da rang, which he composed and sang for his debut film Vicky Donor, was on top of the charts in 2012.
Early career of Ayushmann Khurrana
Ayushmann began his career in 2004, when he won the title of MTV Roadies Season 2. He went on to do more TV shows. But he was more successful as an anchor at launches and award shows, having hosted several of the major Bollywood awards.
On TV, he was popular as a host on MTV for shows like Wassup, Roadies, Grind, Graveyard Shift, Desi Beats and Stripped. For other channels, he emceed Just Dance, India's Got Talent, Music Ka Maha Muqqabla, and Indian Premier League 3, among others.
Ayushmann Khurrana's Bollywood debut
Just when we thought he is restricted to TV and live shows, Ayushmann surprised us with his acting and singing in his first film Vicky Donor. The actor was last seen in Nautanki Saala, a movie in which he again sang two numbers – Saddi gali and Tu hi tu.
Ayushmann Khurrana, the wannabe director

We like the fact that Ayushmann is not stopping at acting or singing. The loving husband and father of a baby son was an assistant director on his mentor Shoojit Sircar's film Madras Cafe starring John Abraham.
Ayushmann Khurrana's new films
Ayushmann is currently working on building six-pack abs for his next (untitled) project with Yash Raj Films, where he plays a squash player. The actor also stars in Hamara Bajaj and in Guneet Monga's Bombay Fairytale.
Ayushmann Khurrana's endorsements
Another gift to Ayush on his birthday is the endorsement contract by the XOLO brand of mobile phones and tablets, which feature in the O heeriye! song video. This only adds to his existing portfolio of ad campaigns.
A very happy birthday to you, Ayushmann!
Watch O heeriye song!