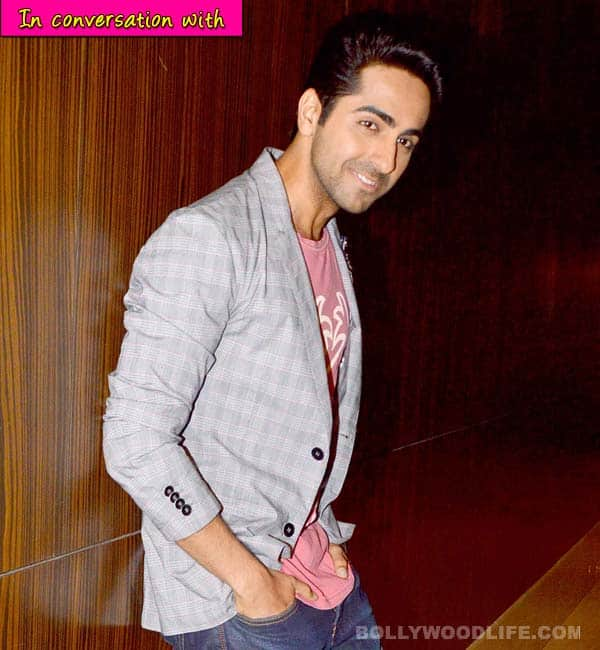 Actor-singer speaks about acting, reality shows, films and much more. Read on.
The amicable Mr Khurana, dressed in pink T-shirt and brown jacket, grey jacket and blue denims, took the stage by storm with his energy when he was present here in Juhu to promote the show Zee Tv's India's Best Cine Stars Ki Khoj. Ayushmann Khurana will be donning the hat of the mentor for two episodes in the show. Vicky Donor star surprised everyone when he revealed that he was rejected from the show's first season back in 2003. We caught Ayushmann in candid avatar and bombarded him with barrage of questions. This is what he had to say….
Are you a big football fan? Who are you supporting this FIFA world cup?
I watch cricket more than football. But right now I am rooting for Brazil cause I really like Neymar.
You stated that you were rejected from first season of Cine Stars Ki Khoj in 2003. What went wrong?
In 2003, I remember I was nerdy looking guy with specs, not 6 feet tall conventional looking where as most of the guys in Chandigarh were like four inches taller than me. I was an unconventional teen that time. I was 10 kgs less and wearing braces.But now the time has changed. It is golden era of Indian cinema. We have gone beyond nepotism and anybody with talent can be an actor.
How do you feel coming as a mentor in Cine Star Ki Khoj?
Not at all. I expect very little from my life. I am a reject of this show and its quite surreal that I am here on the panel as Bollywood buddy this time.
Does look matter or acting matters in the industry?
I think acting matters. As I said this is the age of unconventional. Today's films are unconventional too.There were not much unconventional films back then, even if there were some they would be stamped as art cinema and kept aside. So this is the right time for anyone to pursue acting as now talent matters the most.
You are playing Shivkar Bapuji Talpade in your next film. What is the status of that?
We are left with 10 more days of shooting and it is releasing on 10th of October called Hawaizaada.
How is your Marathi?     
Like I understand a little. I can talk a little. But eventually it's a Hindi film. There are only few words  of Marathi in it.
Have you started training for your football film 1911?
As of now I am busy with Hawaizaada and Dum Laga Ke Haisha. Shoojit Sircar is still scripting the film. 1911 will be happening in Feb next year, so I will start training around October
You have faced quite a few rejections in your life. What advice will you give to the contestants?
Just to be sane. I think just maintain your clarity…success or failure..just be numb to it. There is no specific mantra for this. It only comes with experience.
Your wife has just given birth to a baby girl. So how is the new role ?
New role..(laughs)…I have hardly hard any references since most of my friends are single. S no idea…I am still learning how to be a father.
Do you think your journey would have been much easier if you had been selected in Cine Stars Ki Khoj season?
Whatever happens, happens for the good. I was not ready to be on the screen back when I auditioned for Cine Stars Ki Khoj that time. After that I did VJ and theaters, becoming an anchor. I think after gaining that experience I think I am more comfortable as an actor. If I was selected back then, the chance would have come earlier. That's about it. I am happy with where I am right now.
How did you feel when you were rejected at Cine Stars Ki Khoj?
When I was rejected at Cine Stars…I couldn't sleep the entire night. I was like I wanted to act for a living and I was getting rejected in acting talent hunt. That was the most devastating day of my life. It was really tough.
What do you do to motivate yourself after rejection?
Its your peer group which tells you if you have it in you to be an actor…you win awards in schools and colleges and you start believing you can do it…but sometimes rejections happen, its part of the game..sometimes your energy level is down…it feels really bad but you got to tell yourself that everyday is not the same day and that one rejection means nothing.
What is your perspective as an actor?
Right now I want to be a good actor and a good singer. And I think I am learning everyday, doing films beyond my personal experience like for example I am not a Maharashtrian but I am playing a Maharashtrian, I am not a guy from UP but I speaking Bhojpuri in Dum Laga ke Haisha. These are the sort of challenges I want to take.
What would you say to the participants who get rejected?
If the ones who were rejected become successful that would be great. If they can prove to the people who rejected them, then there is no better feeling than that. So prove that what the judges did was wrong.
Other than luck and talent, what do you need to make it big in Bollywood?
I think its opportunity. It's the combination of talent and opportunity.
Would you like to do more television in future?
I think there is a link between films and television. Both can't co-exist in isolation. I want to do more TV shows but I am right now busy with films. Who knows in future there is some very good show which catches my eye. I would definitely do more TV.
Can you name the judges who rejected you during the first season of the show?
Chhodiye naa yaar…(Laughs)..Ask the Zee people. Don't do this, don't do this (still laughing)
There were some rumours that you were offered a role in Hasee Toh Phasee, but you turned it down because of Parineeti. Is it true?
I would have done the movie. I would love to do a film with Parineeti. The rumours aren't true. Not at all.
Would you like to work in Victor Acharya's project?
I think he is a brilliant director. He makes films with superstars. So I don't know if he would cast me(Laughs)
Vicky Donor was a big hit. If Vicky Donor 2 had to be made, what should be the plot?
I think it doesn't depend on me. It depends on Shoojit Sircar. And Shoojit says if a film has obtained cult status, you shouldn't touch it. We should move ahead and work on new ideas.  We should make other better films with better ideas.
Your film was first titled Bambai Fairytale. Now it has been changed to Hawaizaada. Any specific reason?
There are lots of Bombay's in our film titles – Bombay Talkies, Bombay Velvet, Bambai Fairytale…also film's reach has to be pan Indian. It's a story about a man who gave first aircraft to the world. So it can't be of a particular region. That is why we named it Hawaizaada.
Is it true that Kumar Sanu is doing a cameo in your film?
Yes, in Dum Laga Ke Haisha. Because I am a Kumar Sanu fan.
 You are doing just two episodes for Cinestars Ki Khoj. Why not the entire show?
I don't know why. I have been  asked to be mentor for two episodes. I would love to do more if time permits.
The show provides a platform for talented youngsters who don't have anyone to back them in Bollywood. Have you ever backed any such struggling actor?
There are lot of my juniors who are living in Bombay, struggling to make it big. They performing well when ever they get a chance. I think I help them in things on which I have some control. I wouldn't want to take names cos I don't want to brag about helping someone.
Do you think reality show helps, because lots of winners disappear without a trace?
Not all. I think industry has got lot of talent from reality shows like Shreya Ghoshal,Arijit Singh. I know a lot of them are still struggling to make it big. But then at least the reality show gives them a start.
What is the turning point of your career?
The turning point was when I became a VJ. I came to know every VJ gets a chance in films. On a serious note, I think Vicky Donor is the turning point of my life.
If you would have faced more rejections in acting, till what point would you have continued?
I got rejection only in acting. I had become a radio presenter back then. So I was getting good money from radio. So I was surviving in the city with good money and good house. I was experimenting with lot of stuff like VJ, acting,singing. So I had a lot of options not just acting. Yes it would have been difficult if I did not have financial security.