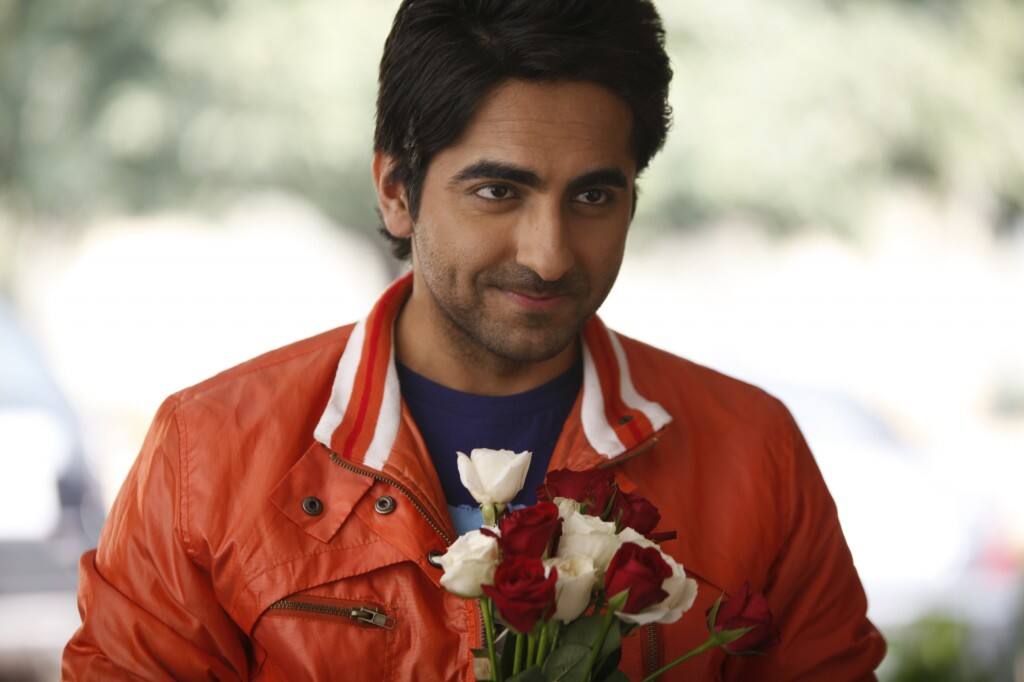 The popular TV host talks about the impossibility of being a dud despite his non-hero looks and how some of the big banners in the industry are biased towards star kids. And Ayushmann Khurrana is not one of those!
The sprightly young man appearing in the promos of Vicky Donor is an avowed fan of realistic cinema. And while he doesn't fail to reiterate the statement that he will only do quality films, he also makes sure to point out a performance that mesmerised him recently. Awestruck by Irrfan Khan's work in Paan Singh Tomar Khurrana, as well as having an eye for good performances, also harbours a desire to work with Amitabh Bachchan. An MTV Roadies winner and a popular VJ, he fortunately didn't have to share the same fate as most reality show contestants. Escaping the curse of 15 seconds of fame, he now confidently walks around with a handful of movie offers and a number of anchoring assignments to his credit. And as he openly declares in the course of the interview that he's married, we can hear the collective groans and the muffled sighs that evokes. So if you care no hoots about Vicky the donor man's marital status, here's a first-hand confab with the new kid in B-town. We welcome him with whistles and a volley of questions…
The very first role in your film resume is that of a sperm donor. Are you glad, amused, perplexed… what's going on in your mind?
I am simply excited. I have donated sperm in the past when I was a part of MTV Roadies. Not even in my wildest dreams did I think I would do a film on that subject. But apart from all this, I think it's a noble cause and the subject I have chosen is quite unique. Since I am a newcomer and don't have any godfathers in the industry, I had to make sure I choose an unconventional subject. Eventually, content is the king, which is why I was super-kicked about this project.
You are just one movie old and already under the scanner for the things you say. IVF clinics were pretty miffed with the term 'designer babies' that you used in a recent interview. How are you planning to deal with this chaos?
I don't understand what's wrong with that. Recently there was a childless couple in Chennai looking for the sperm of an IIT student. So by 'designer kids' I meant that people these days look for a particular donor with a certain quality. It's not a frivolous term at all. I can't figure why they are creating such a huge hue and cry about it.
Hypothetically, if you were offered a YRF film and Vicky Donor, which would you ideally choose for your debut?
Frankly, if I was a star kid I would have automatically bagged an YRF film. Only star kids get roles with that banner. Arjun Kapoor is getting launched by YRF; David Dhawan's son is getting launched by Dharma Productions – how many more examples you want me to give.
We heard you are an avid literature fan – what books do you like to read?
I like non-fiction. I love reading Ghalib. I am also into Hindi poetry and have recently started my own blog. In the past I wrote a lot of street and stage plays. So yes, Hindi has always been my first language – and my mom is a MA in Hindi.
You don't look like a quintessential Bollywood hero – would that be a hindrance in the future?
Not at all! The kind of movies I am planning to do are realistic. Also, in the past we never had conventionally good looking heroes. I think it's a hindrance if you are conventionally good looking. If you have to play a poor man or a guy-next-door from Lajpat Nagar, how will you look convincing if you are six feet tall and have perfect six pack abs? I guess my ordinary looks are my USP.
Playing Vicky Arora came naturally to you considering you are from Chandigarh and quite well-versed with the typical Punjabi boy body language, but wouldn't you like to take up something more challenging?
Well, I like writing Hindi. I would love to do a role that would require me to speak good Hindi. We don't do that these days. Our generation has lost touch with the language. In fact, I have already signed my second film with Soojit Sircar, called Hamara Bajaj; it revolves around the life of an actor from Agra.
How was the chemistry between you and Yami Gautam?
Oh, great! We both are from Chandigarh. Yami is technically quite correct acting-wise, whereas I am quite imperfect as an actor. And I must say that the combination works pretty well. I had to unlearn a lot of stuff. Anchoring is talking to the camera, while acting is ignoring the camera. I m not used to rehearsing, which is good in a way because it has helped me become more spontaneous as an actor.