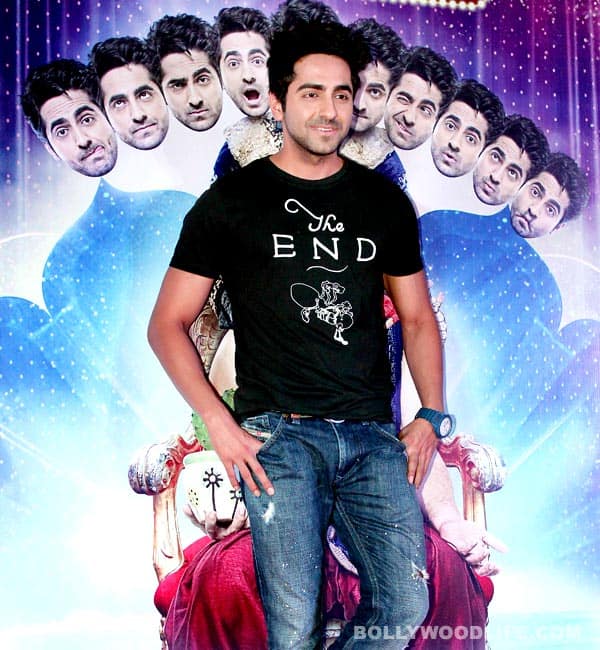 The actor talks about handling his new-found stardom, his on-stage antics in Nautanki Saala and the role his wife has played in his life
We met the Vicky Donor star Ayushmann Khurrana at the T-Series office recently, and the actor, who has been shooting in North India with Sonam Kapoor for Yash Raj Films' next directed by Nupur Asthana, had flown into the city for Nautanki Saala promotions and other professional commitments. And he looked quite exhausted. "I have no time to enjoy my success. I have thrown myself into work," he said. As glum as that may sound, we did notice a faint smile on his face as he said it. And he also made it a point to tell us that this was all he ever wanted. "The brighter side to that is that at least people expect something from me now," he said. The actor then went on to discuss his fresh stardom, Nautanki Saala and his childhood sweetheart and now wife Tahira.
People expect you to do something quirky and offbeat since your first film was different. Is that a good thing for you?
I do whatever excites me and that I relate to. I am Punjabi, so Vicky Donor's character was up my alley. Similarly, I have been a theatre actor and director earlier and that's my role in Nautanki Saala. In Hamara Bajaj I am a struggling actor and I have been a struggling actor before. So in your career, initially you should do roles that have elements of what you have gone through. Your real life experiences should give fodder to your onscreen character.
You have sung two songs in Nautanki Saala and composed one of them. Pani da was a number you composed long ago; is Sadi galli a new composition?
No. It's an old one. I composed it even before Pani da…right after school. And it was a song that had just happened. Rohan Sippy wanted to use the song in the film. I think this song has more variation than Pani da. I think it's a better composition. Pani da was simpler. Let's see if people like it.
How much of your theatre experience did you use during the making of Nautanki Saala?
If you are a theatre actor, you can use a lot of nuances in a film – a certain kind of body language. Theatre gives you discipline and decorum. We did workshops for 30 days with Rohan Sippy and it was really helpful.
Did you improvise during those workshops, or just during the final shooting?
Both. We were so well versed with the scenes and each other's dialogues after the rehearsals. And that was so cool. That's why we completed the film in about 34 days. Eventually, you improvise everywhere and every day. Theatre teaches you that.
Kunaal Roy Kapur says that he learned a lot from you, especially how use his hands and make a scene fluid…
Yes, I use a lot of props while acting – a table or a tissue, it could be anything. If the actor looks busy, it looks interesting onscreen.
You have done almost everything under sun before films – reality shows and anchoring on TV, theatre, music…Which of these do you see yourself doing for the rest of your life?
I have always been an actor. Since my childhood I wanted to be an actor. I did my first play in 5th standard – Merchant Of Venice, where I played Shylock's character. I was the co-curricular activities captain of my school. I did theatre in college in Chandigarh. My ambition was always to be an actor. Apart from that, singing and composing happened with theatre, because Rochak Kohli and I would compose our own music for the theatre group. It was part of the whole drill…a great learning experience.
How would you say all these experiences have shaped you as an actor and a person? And has stardom come in and changed anything?
Vicky Donor is a benchmark – a National Award winning film. I was part of a film that was a great combo of quirk and credibility. Normally comedy and credibility don't go hand in hand. But this was a film that was one of its kind. It tread a very thin line. It was based on a taboo subject, a social issue. But it was never too preachy. Also, it was never cheap or vulgar. The director did a great job, along with the scriptwriter. And yes, now people have some expectations from me. But the brighter side is that at least they are expecting something from me! It's a great thing. But I don't think stardom or fame should be taken too seriously. It's too fickle. You can just do your job earnestly and honestly.
How different is the comedy in Nautanki Saala from that in Vicky Donor?
The first half of Vicky Donor was light-hearted and the second half was serious, so I could term the film more a drama. It was not an out and out comedy. Nautanki Saala is a light hearted film, for sure. There is no slapstick though. We are not trying too hard to make people laugh. There's an undertone of humour. It is a simple story about these two guys, their journey and their love triangle. I would say it's a quirky romcom, a new age comedy.
How is your wife Tahira dealing with your new-found stardom and the female attention that comes with it?
She has always been part of my journey… since childhood. She has seen me grow, do theatre, television and now films. So she is the only constant in my life. Her presence is very important, because she is the one who gives me reality checks now and then. When you grow in stature, there will be people around you who will only praise you, even if you are not doing a good job. And there are certain people in your life who will always give you an honest opinion, and Tahira is the one who always gives me an honest opinion without being too critical. That's great! And as long as female adulation doesn't go to my head or I start taking it too seriously, it will all be cool. I am the one who has to maintain a stable head.
After Nautanki… you have Hamara Bajaj, about a struggling actor from a small town. Are you consciously choosing projects that offer you different kinds of roles?
Nothing like that. Whatever excites me, I just do it without thinking whether I am getting typecast. The success of the film is more important than that. Even if you are playing a Punjabi guy again and again, it doesn't matter if the whole arc of the film is good – the music, story and the whole package must be good. As an actor, you can do a variety of roles, but it's also okay to do a similar kind of a role… though I am not doing that right now, because my characters have been different – Vicky was Punjabi, now Parmar (his name in Nautanki Saala) is a Mumbai guy. In Hamara Bajaj I am an Agra man. I am playing the right mix. But I firmly believe that if you are a good actor, even if you get typecast at some point, it doesn't matter.