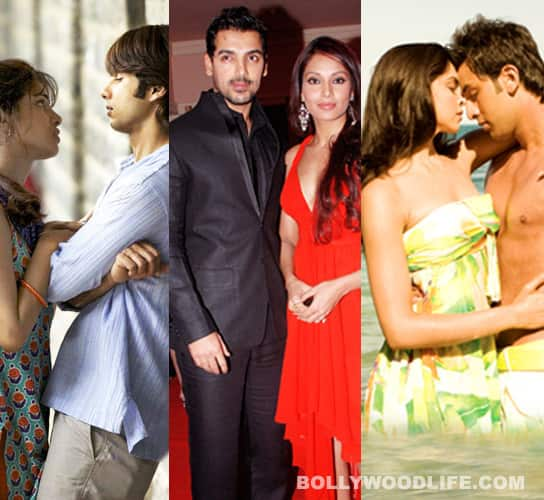 The industry's much talked about couples remain "friends" even after their much-publicised breakups. It's all about professionalism for these ex-lovers!
Guess what's common between Salman-Katrina, John-Bipasha, Shahid-Priyanka and Ranbir-Deepika? They are couples who have made several efforts to remain cordial with each other even after going through a bitter breakup. These ex-lovers have also managed to keep their professional ties intact and are ready to work with each other if a lucrative project comes up. Priyanka Chopra, for example, said in a recent interview that there are no problems between Shahid and her. "Shahid and I remain friends…. We've just started a film together and I'm looking forward to working with him again," she said. Recently, another pair that has decided to reunite onscreen is– Katrina and Salman for Kabir Khan's Ek Tha Tiger. Despite the breakup, Katrina remains in Salman's good books. This is not the first time Salman has patched-up with an ex-lover! Remember Somy Ali and Sangeeta Bijlani? Yet, he didn't really do any films with them after breaking up. This is definitely a new and improved professional attitude from Sallu. There's another couple – Bipasha Basu and John Abraham — whose split has taken everybody by surprise as their behaviour just didn't give it away! Bips has finally cleared the mystery revolving her relationship status with John, but even after ending their romantic liaison, the two have not ended their joint contract with a hair colour brand. In fact, a new advertisement has recently aired on television.
Kareena Kapoor too, said on a show, "We (Shahid and Kareena) are professionals and would not mind working together if an interesting project came by." A slight exception to this are Deepika and Ranbir who they haven't really signed any projects together. But they have always maintained that they would have no issues about working with each other in the future and we definitely won't be surprised that they cast opposite each other soon. After a difficult break-up and some mudslinging, these two are back to being amiable with each other. Deepika revealed in an interview just before the release of Dum Maaro Dum, "He (Ranbir) did tell me that he liked my video (Dum Maaro Dum item song)." This is not the first time Ranbir and Deepika have been nice to each other. At one of the parties, Ranbir was spotted being friendly with ex-girlfriend's current beau Siddharth Mallya. Their public behaviour points out that unlike yesteryear stars (read Amitabh Bachchan-Rekha and Dilip Kumar-Madhubala), who would not even cross each other's paths, the current generation of actors (smartly enough!) doesn't believe in creating permanent enemies out of their ex-lovers.