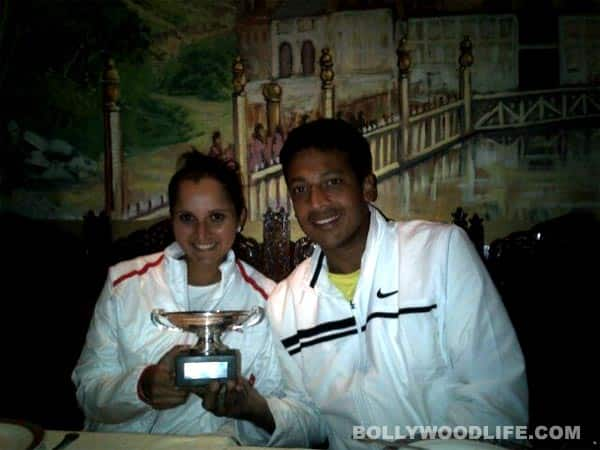 The tennis champions have been flooded with congratulatory messages from Bollywood, after they won the mixed doubles title at the French Open
Mahesh Bhupathi and Sania Mirza made Indians proud after they lifted the French Open mixed doubles trophy yesterday. Though the match didn't start well for the Indian team, the ending certainly won us over.As Bhupathi's wife Lara Dutta is a B-town actor, the victory became all the more special for her colleagues in Bollywood. The proud wife Lara tweeted this morning, "Woken up to a flood of Congratulatory msgs. Thank u everyone! Daughter is wondering what the hulaballoo is all abt in the guava orchard :-)". Mahesh dedicated his win to their daughter Saira.
We have collected some of the tweets wishing the winners:
Amitabh Bachchan: T 767 – AND .. Sania Mirza and Mahesh Bhupathi win the mixed doubles final at Roland Garros Tennis .. Yippee !! BUCK UP INDIA !!!!
Neha Dhupia: Big congratulations to my friends @MirzaSania and @Maheshbhupathi … You have made us all so proud!
Boman Irani: @DuttaLara @Maheshbhupathi So very proud!!!!!!!!
Sonakshi Sinha: @MirzaSania congratulations!!! U make us proud 😀
Farah Khan: Congrats 2 my dearst friend Sania n Mahesh 4 winning the french open!CONGO !
Riteish Deshmukh: Huge congratulations to @Maheshbhupathi & #saniamirza for winning the French Open. @DuttaLara aapke (bhu) PATI ne toh kamaal kar diya
Dia Mirza: CONGRATULATIONS!!! "@DuttaLara: Am the proudest, happiest wife tonite!! @Maheshbhupathi ur Sairas hero!!!!"
Pritish Nandy: Hey @Maheshbhupathi and @MirzaSania you make us so proud! Thank you.
Manoj Bajpayee: Good morning !congratulations to mahesh bhupati and sania mirza on wining the french open.in delhi for wasseypur promotion.only fm visit.
Please leave your congratulatory messages for Mahesh, Sania and Lara in the comments section.
ALSO READ: Lara Dutta goes back to work with Bejoy Nambiar's 'David'