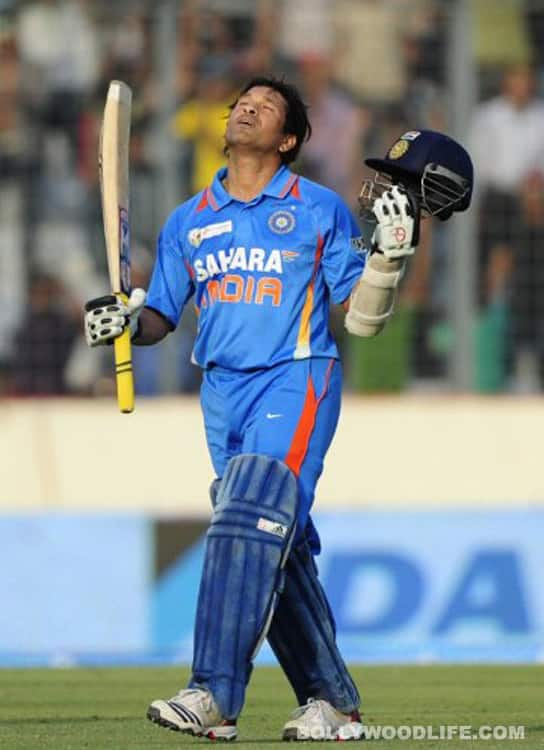 The master blaster's BIG number was long overdue and when it did happen, everyone in Bollywood was euphoric
It was the Big Day for cricket fans everywhere. Master Blaster Sachin Tendulkar finally managed to grab the title that had eluded him over the last few matches that he played. A few moments ago, he made his 100th 100, putting him into a new and exalted level in the sporting stratusphere.
And Bollywood went ballistic on Twitter. The 'baap' of B-ville Amitabh Bachchan posted a message on Twitter: "T 685 – India breathes normally ..!! Sachin completes an incredible feat !! A hundred 100's .. Never done before, perhaps never after !!! His son Abhishek, followed soon after with "ok, tried very hard to control myself and not get carried away. NOT POSSIBLE! YYYYYAAAAAAAAAAAAAAAAAAAAAAAAAAAAAAAYYYYYYYYYYY!!!" He quickly added, "how good is Sachin? he's the BEST. period! stop analyzing him. stop being cynical. just celebrate him!"
An ecstatic Kunal Kohli said, "Sachin ! Saaacchhhinnnnn ! 100 not out!" Filmmaker Madhur Bhandarkar posted, "The god of cricket has proved again y he's called so. Congrats Sachin fr the century of tons. U make us proud always!" Akshay Kumar tweeted, "Salute to the man who never gave up in spite of all the criticism. Finally he did it. #Sachin creates history in world cricket! Congrats to Sachin Hundredkar 😀 #Respect" Hema Malini posted, "Heartiest Congratulations @sachin_rt on this greatest achievement in #cricket of #100th century." Newlywed Riteish Deshmukh scolded, "Sachin TON TONNA TON – all those who thought sachin should retire- time for them to retire from making such statements".
Film producer Pritish Nandy quipped, "What will be tomorrow's headline? A boring budget or @sachin_rt 's 100th century?" Singer Lata Mangeshkar congratulated Sachin saying, "Namaskar. Sachin ne aaj phir se itihaas racha hai. Sachin ko meri bahut shubhkamnayein aur badhaai." Rana Daggubati said, "Truly Superman!! Mr.SachinTendulkar India salutes you for your 100th 100." Bipasha Basu tweeted, "Saluting The Great Tendulkar fr his 100th 100!We stopped our shoot to see it happen!Jubilant n Ecstatic:)"
Leave your congratulatory messages for Sachin Tendulkar in the comments section!
ALSO READ: Bollywood donates for Sachin Tendulkar's 'Support My School' campaign
Dhanush's Sachin anthem back on the web!