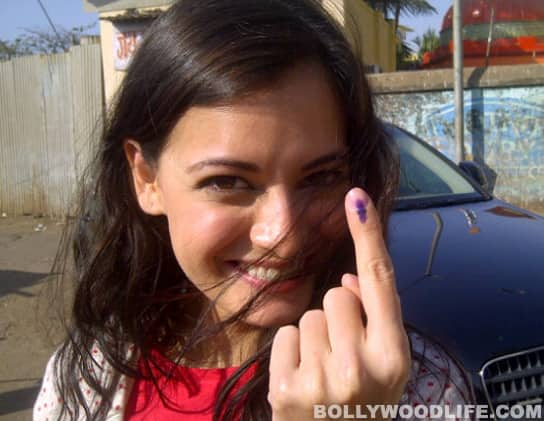 The polling for 10 municipal corporations across Maharashtra, including Mumbai, began this morning and there is still some time before it ends. Bollywood celebs have taken to Twitter urging folks to go out and cast their vote
There seems to have been a rise in awareness about the power of their vote amongst Bollywood people. Many B-town celebs not only went out and cast their votes, but also encouraged others via micro-blogging site Twitter to do so. Shabana Azmi posted, "Mumbaiites cast your vote on 16th feb for municipal elections. Corporator is your 1st contact with d system directly impacts quality of life," and followed it up with "Cmon go out n vote Your corporator has d greatest influence on your everyday needs dont moan abt woes of d city if u cant b bothered 2 vote."
Music composer Vishal Dadlani tweeted, "Bombay, if you don't vote today, you lose the right to whine and complain about bad roads, bad infrastructure, bad politicians. VOTE, now!" Actor Priyanka Chopra, who is away, posted, "Wish I was in mumbai today to vote..every year I do..I implore all of u to..we r the future n make this country what it will be for our kids." Actor Kunal Kapoor said, "Please go out and VOTE.. Its not a holiday, don't treat it as one pls.. A wise man told me "khuda bhi us kaum ka khyaal nahi rakhta, jis kaum ko krud apna khyaal na ho." Anupam Kher posted a naughty update: "Mumbai walo… Ungali dikha ke Ungali karo! Come out and vote.

" Filmmaker Kunal Kohli, tweeted, "Idiot in Greek means,one who didn't vote." Alerting people about the closing time of the polls, Dia Mirza said, "Apparently 5:30! So there! Don't be lazy. Just Do It

#Vote #bmc #civicpoll." After casting her vote, she said, "Cast my vote have you?#bmc #civicpoll"
We at Bollywoodlife went out to vote. Did you?