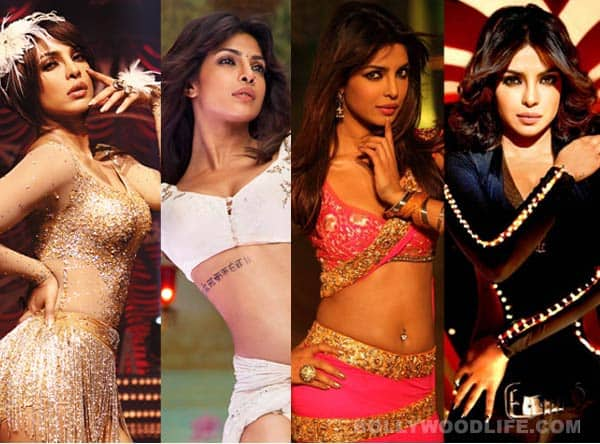 The latest song she wiggles and jiggles in is from Gunday and has the Exotic babe play a sexy cabaret dancer. Is it her career best? You tell us…
Priyanka Chopra does a Helen from the '70s in the latest song from Gunday, Assalam e ishqum. Does she sizzle? Or is this one a bit of an …err…fizzle? Has PC done more sensuous numbers before, or is this the hottest so far? While both Ranveer Singh and Arjun Kapoor drool over the smouldering, sexy, dusky beauty in the song, do you feel like doing that too? The number rendered by Bappi Lahiri and Neha Bhasin doesn't really match up to a Helen's 'Piya tu' or 'Aa jaane jaan', but Priyanka adds that much-needed oomph to an otherwise thanda gaana.
While it would be unfair to compare the Gunday gal's latest act to anything the veteran Helen has done, this bold and bindaas rockstar babe has a list of her own special songs that she has shaken a leg – and a lot else – to. Here, take a look at the others and tell us which you think is the best. Vote!
Babli: The John Abraham starrer Shootout at Wadala had some of the most sexy women in filmbiz today shake a leg for Manya Surve. Sophie Choudhury danced on the bar singing Ala re ala. The adult movie star Sunny Leone did a gentle wiggle to Laila teri. And the In my city beauty decided to sizzle in a first-time avatar as Babli – and yes, she was badmaash. In a leather bodysuit studded with lights, PC did her homage to Amitabh Bachchan in Saara zamana from Yaarana. Her long and shimmering high-slit gown was a perfect for a club number. The look, feel, music and lyrics and, of course, Priyanka's smouldering look made this song a hit and a perfect fit for a gangster film based in the '80s.
Pinky: Though Zanjeer was dud and easy to forget, one good memory of this otherwise forgettable movie featuring southern star Ram Charan Teja and Ms Chopra is the Pinky song. It's not one of our favourite of the dusky beauty's appearances onscreen, and neither is it a fabulously tasteful number, but Priyanka's little pink skirt and the lyrics – 'Mumbai ki na dilli walo ki, Pinky hai paise walo ki' – managed to leave their mark. As for Priyanka, we give her thumbs up for trying to reinvent herself with every role and being willing to make herself a target for the naysayers.
Ram chahe Leela: While Goliyon ki Rasleela Ram-Leela was best known for the Ranveer Singh-Deepika Padukone chemistry, Priyanka's special song too managed to grab headlines, first for her being pitted against the film's heroine and her own real-life buddy and then for her sensuous song danced to Bhoomi Trivedi's husky rock-vibe voice. Priyanka upped the sex quotient by flaunting her curves in a sarong and white blouse, doing moves that combined power yoga, calisthenics and pure sex appeal. We're sure Priyanka's act made Deepika's jaw drop, even as Ranveer was left stunned and open-mouthed.
Which of these songs is Priyanka's best number?