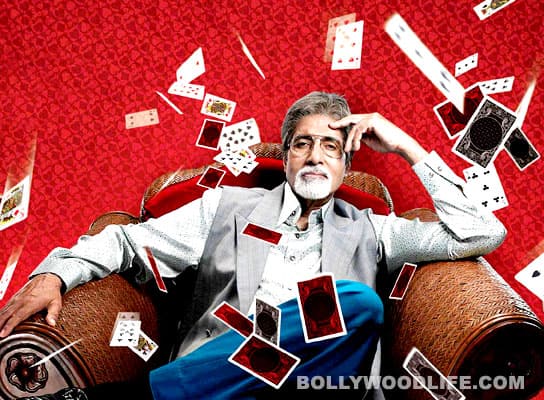 Amitabh Bachchan will star in Baz Luhrmann's adaptation of the The Great Gatsby, alongside Leonardo DiCaprio
Finally, after decades in the Indian industry, Bollywood legend Amitabh Bachchan has joined the elite international league. The reason for his recent hush-hush visit to Sydney is now clear. It's official – the Big B has joined the cast of Baz Luhrmann's $125 million 3D epic The Great Gatsby, an adaptation of F Scott Fitzgerald's great American novel.
Baz Luhrmann is no stranger to Bollywood as he had Nicole Kidman gyrate to Anu Malik's Chamma Chamma from China Gate in his musical Moulin Rouge. Bachchan will play the role of the shadowy Jewish gambler Meyer Wolfsheim. He'll rub shoulders with global heartthrob Leonardo DiCaprio who essays the title role. Other international stars in the film include Tobey Maguire and Carey Mulligan. The Warner Bros Pictures' and Village Roadshow Pictures' production commenced principal photography in Sydney this week.
Warner Bros describes the film thus: "The Great Gatsby follows Fitzgerald-like, would-be writer Nick Carraway as he leaves the Midwest and comes to New York City in the spring of 1922, an era of loosening morals, glittering jazz and bootleg kings. Chasing his own American Dream, Nick lands next door to a mysterious, party-giving millionaire, Jay Gatsby, and across the bay from his cousin, Daisy, and her philandering, blue-blooded husband, Tom Buchanan. It is thus that Nick is drawn into the captivating world of the super rich, their illusions, loves and deceits. As Nick bears witness, within and without the world he inhabits, he pens a tale of impossible love, incorruptible dreams and high-octane tragedy, and holds a mirror to our own modern times and struggles."
Luhrmann said: "Fitzgerald loved the movies and was a passionate believer in the power of cinema. The Great Gatsby has been adapted for the screen no less than four times. Fitzgerald's story defies time and geography. The vision and the goal of our remarkable cast and creatives is to do justice to the deftness of Fitzgerald's telling, and illuminate its big ideas and humanity. This is our challenge and our adventure."
Bachchan's tryst with Hollywood nearly happened when he was offered and turned down the role of Saladin in Ridley Scott's Kingdom of Heaven. The role eventually went to Syrian actor Ghassan Massoud. But perhaps the most famous snubbing of Hollywood by an Indian actor was when Dilip Kumar turned down the role of Sherif Ali in David Lean's Lawrence of Arabia. The role went to Omar Sharif who became an instant global name. There are, of course, recent instances of Indian actors acting in Hollywood productions. But then again, Politics of Love and Hisss aren't really A-list productions – how can they be, if they star Mallika Sherawat…
So Bachchan joins the exalted company of Irrfan Khan who has a slew of international credits including Life of Pi, The Warrior and The Amazing Spiderman besides Slumdog Millionaire that also had Anil Kapoor. Here's hoping that Bachchan brings home that much awaited acting Oscar to India.