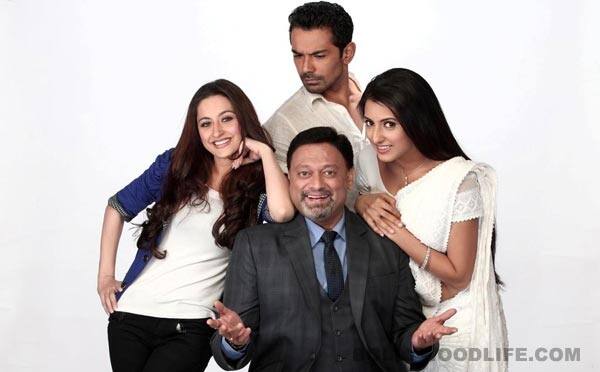 It's a remake of the popular Bengali show Khela (Game), which aired on Zee Bangla almost a decade ago
Ravi Ojha Production Enterprises the makers of Badalte Rishton Ki Daastan are reprising the old Bengali show called Khela (game) in Hindi. With popular names like Sanjeeda Sheikh, Additi Gupta and Kiran Karmarkar in the daily soap, it has already managed to invoke an interest among viewers.
Bored of the regular saas bahu sagas? Then try this, coz Zee claims that it is a tad bit different. Wondering how? In most shows, a woman is another woman's biggest enemy – here they are each other's strength. The saas (mother-in-law), who is usually the evil one, is the most loved person in the family and it's the father-in-law who is playing games. Interesting! And yes, different.
Badalte Rishton Ki Daastan is the story of relationships and the fight against patriarchal society. We definitely like the sound of that! The story traces the journey of Meera (Sanjeeda Sheikh) and Nandini (Additi Gupta), who come together in the face of adversity to fight against injustice and a ruthless patriarch. Meera is a vivacious, optimistic, independent and outspoken girl who is in search of true love – aren't we all! Even though she appears very strong and tough externally, in reality she is vulnerable and emotional. Life is often cruel to her, but the good thing about Meera is that she never gives up hope. Nandini, on the other hand, is a silent, demure, sensitive and passionate woman who appears to be submissive, but has nerves of steel.
Where there is good, bad will be lurking just around the corner. Balraj Asthana (Kiran Karmarkar) is the head of the family who will stoop to any level to get what he wants. And right now he wants an heir to his empire. He doesn't love his daughters, while his sons are his pride, but they all dread his anger. The fear of his wrath forces people to do his bidding – he mistakes it for respect. Both in business and in life, Balraj is unprincipled. Honesty, truth and justice are the least of his concerns.
Biji (Mona Ambegaonkar) is the unofficial head of the household. She is kind, sweet and probably the only one who can stand up to Balraj. She is deeply loyal and devoted to her family, but never lets her loyalty come in the way of justice and truth.
This one is pulp fiction crammed with secrets, intrigue and deceit. BRKD is a bold tale of women power – so the promos say. Sanjeeda and Additi look gorgeous and Kiran's devilish grins can give you goosebumps. From the trailers, we figure that Nandini is a widow, but it's the secrets of her husband's life that changes her whole future. Similarly, something forces Meera to change her faith and beliefs – did Balraj have a hand in the twisted fates of the women? To find out, we'll have to wait till March 18, when the first episode goes on air.
ALSO READ
Phir Subah Hogi to go off air on March 22?
Gautam Rode and Jennifer Winget's Saraswatichandra gets average TRPs
Pavitra Rishta: What's brewing between Rithvik Dhanjani and Asha Negi?