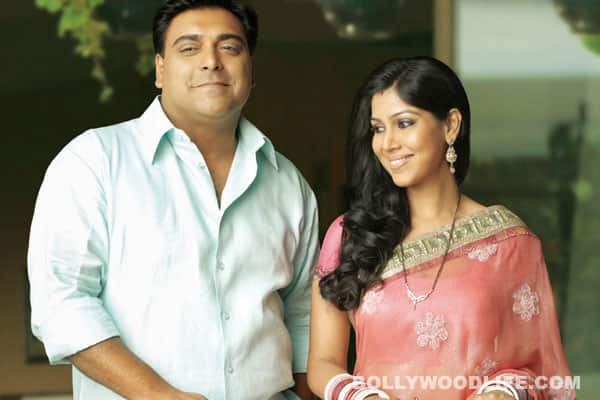 Our readers claim a time leap will kill the show. We agree
Our readers are a varied lot when it comes to choosing their favourite movies and favourite stars. But when it comes to their favourite television show Bade Acche Lagte Hain, they are unanimous in what they want to see in it. Or rather, what they don't want to see in it. And that's a leap.
There had been unconfirmed reports that Bade Acche Lagte Hain was poised for a five year leap with Ram (Ram Kapoor) and a possibly pregnant Priya Kapoor (Sakshi Tanwar) parting ways. The story has reached a point where a leap is plausible. Natasha will return home and tell everyone she has been at a meditation centre for the past three days. This puts a strain on Ram and Priya's tenuous relationship, and after a huge fight, Priya will walk out of Ram's house. All Ekta Kapoor shows have had leaps so why should Bade Acche… be any different? But that's what our readers want it to be. We've been inundated with comments and e-mails about how a leap is not the right path for the show to take. They have waited for a year to see Ram and Priya fall in love. The last thing Bade Acche… fans now want is for the couple to separate and be forced to wait for another year to see them together again. Our reader Samyukta hopes the creative team will listen to her "kind request" and not take the leap, "as we have attached ourselves to the serial's lead pair Ram and Priya in such a way that we cannot see them separated." Another reader Purnima states that half their lives are already over (Ram is supposed to be in his early forties and Priya in her early thirties) and a separation will only mar the happiness of the few years they have left. Isn't that inventive reasoning? Ekta will also do well to keep in mind that there is at least one viewer out there who thinks separation is against Indian culture!
Our take? Ekta had said during the launch of Bade Acche… that it will be a different, mature love story. Till now, we haven't seen all that many differences from her previous shows. It's the same rich hero, same scheming mother-in-law, same poor heroine. The similarities are so obvious that sometimes we wonder, how come Priya doesn't see through Niharika's machinations? Didn't she learn anything while she spent seven years warding off evil family members in Kahaani Ghar Ghar Kii? A leap will just reinforce our opinion about the lack of originality in Ekta's shows. There are several other ways for the soap queen to increase the show's ratings. It's high time she came up with something new and innovative, don't you think? If she is too busy to do so, she can just take the help of our readers, who have made a few suggestions that wethink are fresh. Our fingers and toes are crossed!