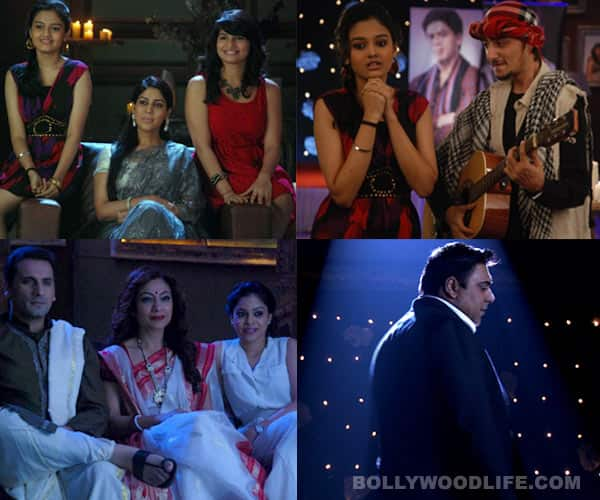 A grand Bollywood celebration has been planned in the Kapoor mansion to celebrate Khush Kapoor's first movie role. Will it help to bring Ram and Priya back together?
Yeah, so it starts all over again. Priya Kapoor (Sakshi Tanwar) decided to leave the Kapoor mansion and her husband Ram Kapoor because she felt her faith and trust in his had been violated by his silence about his marriage to Juhi (Shubhavi K). Whew! She walks out in a huff and then goes back to the house with Ram's brother Siddhanth (Mahesh Shetty) and her daughter Pihu (Sonia Balani), saying that she will do her duty as a Kapoor bahu, but cannot be expected to show any emotion or involvement. And she does her thing, be it for Juhi and Sid's grahpravesh or for the family breakfast.
In a mushy and very soggy speech she tells a repentant Juhi that she will be a good sister-in-law to the new bride, but she can't be a friend to her former buddy. She needs time, she says. That is exactly what Neha (Tarana Raja) and Vikram Shergill (Jai Kalra) tell Ram too – Priya needs time. No tricks or pressure will bring her back to him, they tell the portly Mr K. But Ram has a plan. And he insists that it will work without problems. Ha ha! Like we believe that!
Khush (Aditya Kapadia) tells Priya that he has finally managed to get himself a small role in a film and that the entire family should celebrate that achievement. While his adoptive 'mother' is reluctant to do anything beyond the call of what she considers to be duty, she agrees when the boy refuses to not party without her. The celebration is planned, a grand family party with a Bollywood theme, lots of song and dance and some potboiler-ishtyle acting.
Khush plans to be Ranbir Kapoor, with Suhani and Pihu joining him to form the trio of Rahul-Anjali-Tina from Kuch Kuch Hota Hai. Neha and Vikram will recreate the Devdas-Paro duo. And the climax will be Ram Kapoor doing a Shahrukh Khan from Jab Tak Hai Jaan. What will Priya do in this mélange of characters? Do we see her as Katrina Kaif, perhaps, who got her man just after he was done defusing a bomb? Or will it all blow up in Ram's face? Is this party even the new strategy that he has come up with? When we stop giggling, we will let you know how it all works out…