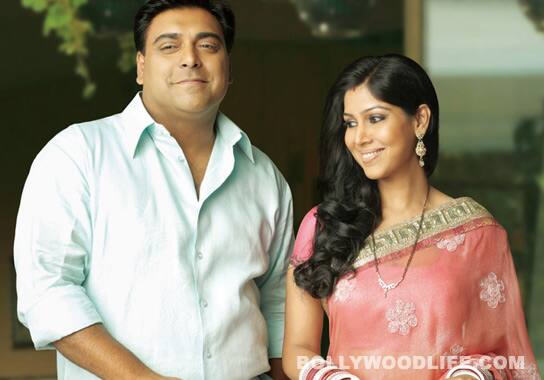 Ekta Kapoor's Bade Acche Lagte Hain is going to span time…very soon. Or maybe not. Here's what we would like to see
If you've tuned in to Sony TV recently, you'd have caught the promos of Bade Acche Lagte Hain that show a young girl asking her mother Priya (Sakshi Tanwar) about her father. Priya then goes on to describe Ram and his quirks. It's obvious the girl hasn't met her dad, which means Ram and Priya are no longer together. And since the girl is at least four years old, we are guessing a leap of five years is expected to occur any time soon. We had told you about this plan earlier too, so what's got us confused? Tarana Raja's tweet! The former radio jockey, who plays Priya and Ram's friend Neha, has hinted that there might not be a leap. When a fan asked her if the rumours are true cause they are disappointing, she replied, "Keep the faith. Don't jump the gun!". Does this mean the actors are not in the loop about the storyline? Or did Tarana mean something else totally? Sony's Sneha Rajani revealed a bit more when she tweeted, "Keep the faith.. Ram & Priya won't be apart for long!"
Anyway, we think Ekta need not stop at the leap. Since she has anyway brought in other trademarks – the scheming mother-in-law, the philandering husband, the kind granny – why not include other elements from her hit shows to make BALH more engaging? With the show's writers winning the Best Screenwriting Award at the Indian Telly Awards, we are sure there are more been-there-seen-that kind of twists and turns to come. Here's our take:
Niharika realises she's done wrong, and makes it her life's mission to reunite Ram and Priya. Remember how Tulsi's mother-in-law in Kyunki… Saas Bhi Kabhi Bahu Thi had a change of heart before she was killed?
Ram and Priya's children act all grown up and bring their parents together in a Pavitra Rishta-esque fashion. No, scratch that. It didn't work for that show either.
What did work? The consummation scene. But we can't have that again, can we? Yes, we can! Krishna introduces Ram's long-lost twin brother, a vampire! He and Priya agree to a marriage in name only just to make Ram jealous. But their plan gets complicated when he falls in love with Priya and she too begins to harbour feelings for him. The vampire and the human consummate their marriage in a dreamy locale. Perfect solution, no?
BALH was a hit when it began because it was a "mature love story". That the lead pair behaved most immaturely in the past few months is another story altogether. Why not make Ram and Priya more mature? Let the show leap by a good 30 years. Both the characters will be around 60 years old. Hopefully by then they will show some degree of maturity. Or will they resurface as their own children…ouch!