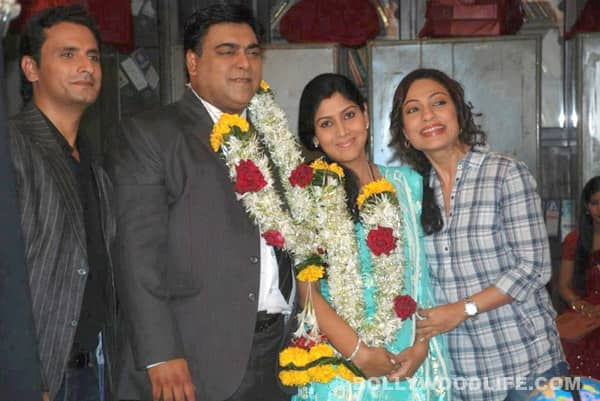 So after all that rona-dhona, we get more – but these are tears of joy, we found out when we dug deeper. The love-hate-love couple is now going to be re-joined in matrimony…until when?
Yes, we know, Bade Acche Lagte Hain has become a habit. And even as we bemoan the fates of various little side stories that come and go, we can't help holding our collective breath where the happily-ever-after status of Ram Kapoor and wife-ex-wife Priya Sharma Kapoor (Sakshi Tanwar) is concerned. Sometimes they actually stay happy for a whole episode! And sometimes they are caterwauling and bawling at each other or at other people about each other, which has got us so turned around in circles that if it was not for the inevitable and expected ending that we know is gonna be joyful, we would give up and watch something else…anything else.
But there is hope, in spite of all the twists that Ekta Kapoor has whipped up in Bade Acche…comings and goings that could rival any American soap at its TRP raising best. We now have been granted a tiny peek at what the future holds. And like any good long-running serial, there is a happy end for at least one drama. We see that Ram and Priya, the wonderfully real and mature lovebirds finally seem to find a togetherness that could last, emotionally speaking, of course. There are still many hurdles to overcome, from Ayesha's (Akanksha Juneja) state of health and sudden re-morph of personality to Siddhanth's (Mahesh Shetty) vow of revenge. And we just heard that Ram and Priya are being thrown out of the Kapoor mansion by Ayesha, who chooses property over loyalty or fidelity to her husband in a test he gives her. But the coochie-two basking in love-shuv are sure they can overcome it all and decide to get all domestic and nested.
But how can they, we asked, and we know you are asking too. From what we have seen, the two exchanged sweetie-pie dedications, swearing forever love and devotion without looking at bank balances and property – unlike legal wife Ayesha, please note – with their friends and families in attendance and Ram has started calling Priya Mrs Kapoor with a wonderfully silly-sappy look on his round face. And she gazes at him tearfully yet cheerfully, saying that if she has him, no property or money matters. Sort of like McDreamy and Meredith's shaadi courtesy Post-Its on Grey's Anatomy, no? Hope the marriage this time around has a longer shelf-life – we are exhausted trying to keep up with the ups and downs in this one!