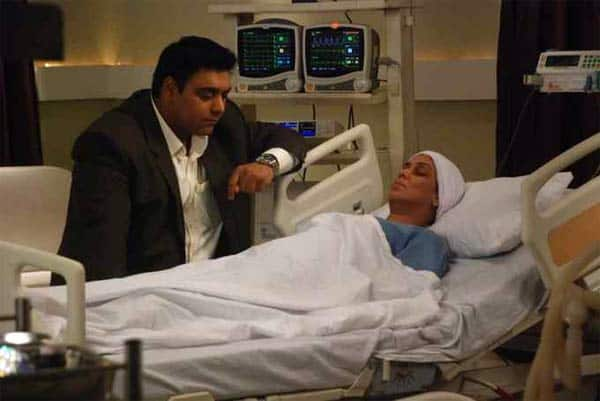 After seven years onscreen and too many weeks for viewers, Priya Kapoor is finally coming out of her coma…
It was a tumultuous half hour last night on Bade Acche Lagte Hain. After having spent seven years in a coma and with such cheerless prognoses from doctors, Ram Kapoor's beloved wife Priya is finally waking up.
Yes, it is most unrealistic, since physiology indicates the level of wellness long before physical functions resume and after so long without moving no muscle will have tone enough to work as normal, but hey, this is television! So the scenario is thusly – Priya, who has been sinking all this while, is now starting to rise a bit.
Ram discovered that when he held her hand and felt her fingers grip his. The ghostly – or should it be ghastly, considering her character when she was alive – Niharika (Eva Grover) loses hold of Priya's psychic self as the loving biwi rushes back to her corporeal existence to calm her beloved husband. A terrifically dramatic but oddly funny moment has Ram proving to the doctor that Priya is indeed getting better when he lifts his arm with Priya's fingers holding his firmly. And the whole family is crying happily outside in the corridor, still dressed in wedding finery. Rajat Kapur (Samir Kochhar) leaves after a sweetly moralitistic chat with Juhi outside the critical care facility, leaving us wondering if one of the best characters on the show has now done his final farewell.
But all this happiness and love has us a little puzzled. Wasn't Pihu Kapoor (Sona Balani) supposed to turn grey? Isn't that why the actor was changed? Frankly, the new Pihu is most unconvincing and more ham than talent, but maybe she will get better…like Priya is! Until then, we cannot wait to see what the makers will unleash on us next. More fun and games, we hope!