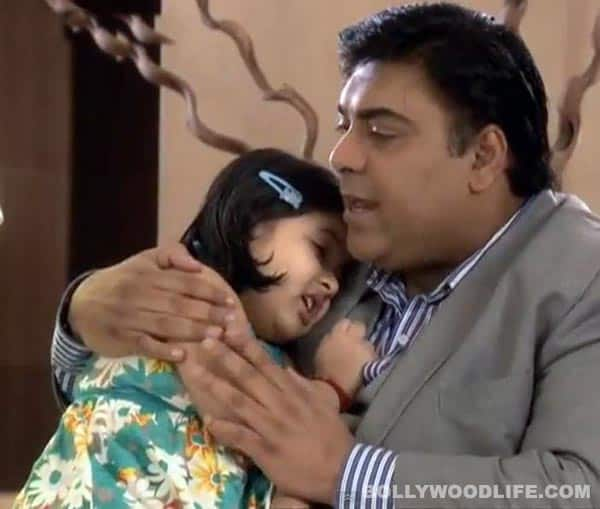 Our hearts aren't really melting at the sob situation that Priya Kapoor has created for herself, but how long will husband Ram remain angry? And will he really manage to take beti Pihu away?
Five years ago on Bade Acche Lagte Hain Priya took the decision of leaving Ram and going away so that he could move on with his life. Like that was ever going to happen! And now the lady who was – and still seems to be – a damsel in distress has returned to India for good, but Ram is not in the mood to forgive, forget or let bygones be bygones. He is now planning to file for sole custody of their daughter Pihu and keep his estranged wife away from the li'l one for at least five years – as long as Priya had been 'dead', in fact. Tit for tat seems to be Ram's policy.
So who will win this battle? We thought, with all the wealth and power at Ram's disposition, Priya may be fighting an already lost case, but her knight in shining armour Rajat Kapoor steps in to save the day. Woohoo! For the sake of his love, Rajat has decided to go against his best friend and boy, do we love it! The business tycoon has definitely won a few brownie points from us and perhaps from the never-to-be-his ladylove with this one.
And now we wonder what's cooking in Ram's head. 'Golu Uncle' – now 'Papa', as he is fondly called by Pihu– has made it very clear that he wants his daughter all to himself. And anyone who comes in his way or thinks that he is wrong can go take a hike, he insists. He has asked his friends to pick which side they want to be on and commanded his family to choose between him and Priya where their sympathies are concerned. At this rate, we wonder how he will react when Pihu tells him that she cannot live without her mother, which we are sure will happen soon enough. What will they all do then? Replacing Priya with Ayesha cannot be a solution, as we all know – after all, that was a marriage of convenience to cover up for the model's illegitimate child with Ram's stepbrother Sid and actually, legally speaking, Ram and Priya are still married….phew! Talk about complicated!
While the father–daughter bonding thing does have its 'awww' flavour, how long do the makers of the show plan to stretch out the battle? The current situation is no fun at all, and we'd really like to knock some sense into Ram. So would the viewers, we know. So you tell us: Whose side will you be on in this battle? Ram's or Priya's?